I could start here and write forever about music. Music was once the whole purpose of my life. I was born in Blackpool. My elder sister, by almost ten years … no scratch that, by just over nine years, (I have to be kind) danced beautifully and my Mum would take me to all the rehearsals for the Children's pantomime and The Tower Ballet. The lines from the Abba song,"… I was a dancer before I could walk, … I could sing long before I could talk," fitted me perfectly. Elsie Bradley, the ballet mistress told my parents that she wanted me as soon as I was five.Unfortunately, my family moved away from Blackpool for seven years and the pathway to musical theater and dance was lost to me. Even so, I sang at every opportunity and by the time I was ten,I was ballroom dancing my way around Britain and Europe under the tutelage of a former World Champion.
My paternal Grandfather trained as a bandmaster at Neller Hall and played sax with Jack Hylton until he settled down in Blackpool.  He played with all the resident Tower and Winter Gardens bands between the wars, even transposed music for Tommy Dorsey when he visited. My maternal Grandmother was an accomplished pianist, teaching dance, pianoforte and elocution to young ladies.I guess music was in my soul. Some things are just part of who you are. I lived for music.
A friend recently told me of a current theory that to be accomplished, a virtuoso, at the top of your profession takes 10,000 hours of dedication. I believe this is true. My father paid for two hours of private dance tuition every week. In return he insisted that I put in five hours practice for each one. It was a huge commitment from a nine year old but it paid off.Most weeks, I practiced fifteen hours, either at Belle Vue Manchester or Reece's Ballroom in Liverpool.I knew all the big band tunes, learned all the words too. It became part of me. It shaped my style of dress, my attitude to life, my expectations of courtesy and respect from men.You see ballroom dancing has a code of politeness that was going rapidly out of fashion in most other places but my world was untouched by change.Boys who danced wore tails, white tie, dinner suits and cumber bunds.They linked your arm, led you back to your seat at the end of a dance and more important than that, they could dance. Unlike most young men in the 1970's and 80's, they didn't stand at the bar while the girls danced round their handbags.
I sing a little now.Five years ago I joined Musica Lirica Opera chorus. I love singing, although I am never going to be a great operatic singer, I am enjoying learning a new craft.Being part of a chorus is great fun.We work hard but we also laugh and support each other.This season we staged a production of Franz Lehar's, The Merry Widow, that was a resounding success at The Grand Theatre, Blackpool, Bingley Festival and Lancaster Grand.

  

I fulfilled a lifetime wish, to sing on a real theater stage but I also managed to dance a little again, helping my chorus colleagues to learn to Viennese Waltz.It has always been my favorite dance.
This is the latest edition to my Dance poetry series...oh and in the photo, my Grandfather, Fred Robinson is third from the left.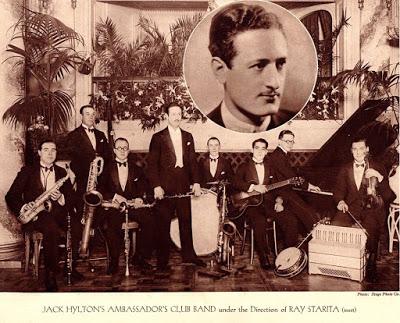 A Viennese Affair
I'm lost, lost, in a Viennese Waltz,
I can't find my rhythm or rhyme,
my writing is blocked
but my feathers are cocked
but I'm having a wonderful time. 
My partner is dashing,
my cleavage is flashing,
while out in the wings sits his wife,
I know it will only last 32 bars,
but this little affair,
has put curls in my hair,
and I'm having the thrill of my life.
I'm lost, lost, in a Viennese Waltz,
I can't pen a quatrain or two,
I'm not going to cry,
when my ink has run dry,
I'm enjoying my bit of a do. 

  
When we are rehearsing,
he keeps on reversing,
and bumping his bustle to mine,
a brush will his tails,
sends me right off my rails,
his pivots are simply divine.
I'm lost, lost, in a Viennese Waltz,
I can't script a stanza at all,
my prose isappalling,
I'm rising and falling,
but I'm certainly having a ball.
We dance to impress,
with his beard on my chest,
I look like I'm covered with hair.
His hand on my back
concertina's my corsets,
my skirt's lifting up in the air.
I'm lost, lost, in a Viennese Waltz,
I'm missing a deadline or two,
The whirling and swirling,
has sent my toes curling,
I know that it's wrong,
but it may not last long,
poetry can wait,
I've a short 'use by 'date,
I'm having one more dance with Hugh,
If you had the chance, wouldn't you?
So I challenge you all to get dancing and singing 
Thanks for reading ... Adele
Email This
BlogThis!
Share to Twitter
Share to Facebook
Reactions: