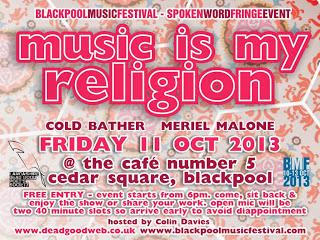 This event is tonight, in support of Blackpool Music Festival and is to be hosted by our very own, very lovely Colin "Cuddlemonster" Davies.  Please feel free to pop down, whatever your taste in poetry - hugging the host is optional but preferred.  Cold Bather will be delivering an incredible monolog straight from his performance at the Edinburgh Fringe and Meriel Malone will be closing the event with some of her wordy lyricy wonderfulness.  
Sandwiched between the two gloriously talented wordsmiths will be two forty minute sessions of Open Mic for anyone to participate.  The rules are as follows - no more than 3 minutes, words must be involved, you may sing any of your own lyrics or deliver your own poetry.  There will be no dedicated family friendly section of the night as we will be trying to fit everyone in, first come first serve.
This night has been organised to raise money for the Trinity Hospice and Brian House, so whilst it is free, there will be pins on sale and the opportunity to give generously.  It has also been organised to bring the fun into spoken word, so bring your loud voices, tambourines and maracas because we are hoping it's going to be a crazy one!
Thanks for your support.
Lisa Kelly.