Homemade Mushroom Samosas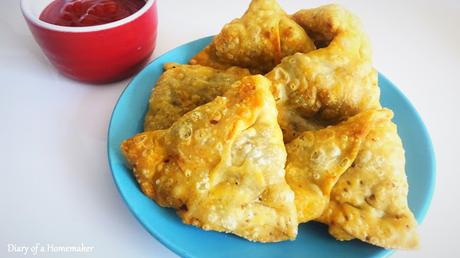 Samosa is a popular Pakistan/Indian tea time snack, or apetiser. Basically its a triangular savoury pastry filled with potatoes or other vegetables. The non vegetarian variety of samosas consists of lamb mince or a chicken filling.
The samosas are usually fried but these days baked samosas are also quite popular with the diet concious world. I am quite naughty when it comes to dieting so no diet stuff for me and hence I stick with the real stuff i.e fried samosa.
I have tried all sorts of fillings for my samosa recipe, vegetarian and non vegetarian but recently my all time favorite is the mushroom samosa. I love mushrooms they have a mild earthy taste which easily blends with other ingredients. In this mushroom samosa recipe  I have used sauteed champignon mushrooms with bolied potatoes all spiked up with basic curry spices like red chilli powder, coriandr, cumin and garam masala.
The key to crispy samosas lies in the pastry dough, which should not be too soft or too firm. The dough should be nice and pliable. One thing I love about homemade samosas is that you can turn any left over vegetable dry curry to make the samosas. Even minced meat cooked in Pakistani style mince makes a nice filling for the samosas.
Below is the step by step guide to teach you how to make homemade samosas, so follow it properly and making this all time favorite teatime snack will be a breeze from now on.


IngredientsQuantity
plain flour2 1/2 cups
vegetable oil 4 tbsp
saltto taste
carom seeds (ajwain) 1 tsp
warm wateras needed
Ingredients For The FillingQuantity
boiled potatoes3 medium
champignon mushrooms 400g
chopped onion 1 small
red chilli powder 1 1/2 tsp
cumin powder1 tsp
coriander powder1 tsp
garam masala1/2 tsp 
salt to taste1/2 cup
chopped fresh green chillies 1-2 
vegetable oil for frying
Method:
To prepare the filling saute onions in vegetable oil add the mushrooms. The mushrooms release a lot of water. Cook until the moisture from the mushrooms evaporates. Now add the boiled potatoes, red chilli powder, turmeric powder and salt.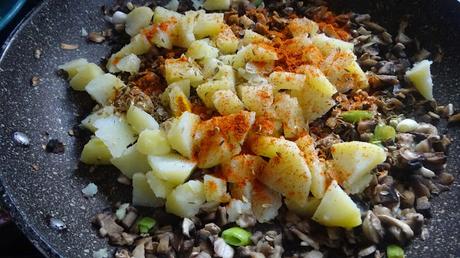 Add the cumin and coriander powders and also the gram masala powder and green chillies. Mash the potatoes with the the help of the back of a spoon. Cook for 4-5 minutes until all the ingredients are well incorporated into each other. Remove from the heat and let cool.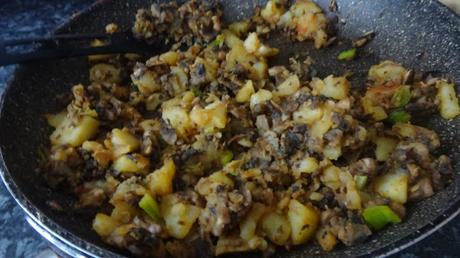 While the samosa filling is cooling prepare the pastry. Take flour add salt, ajwain, oil. Knead with luke warm water.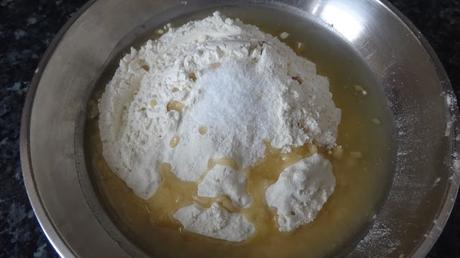 Keep in fridge for 1-2 hours.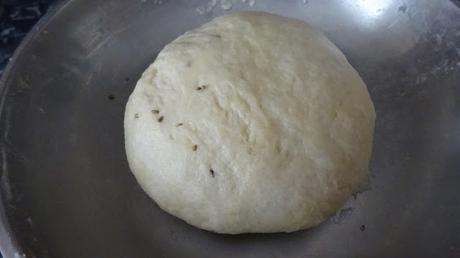 Divide the dough into 8-10 small balls. Roll each ball ito a small 4 inch circle.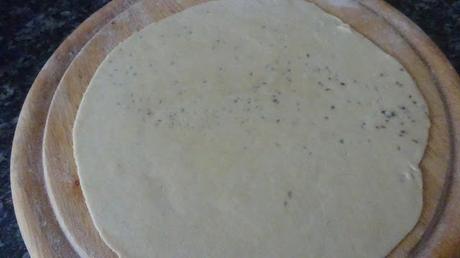 Cut each circle into half so that it makes two semi circles. Overlap both sides of the semicircle to form a trianagle, as shown in  the photo.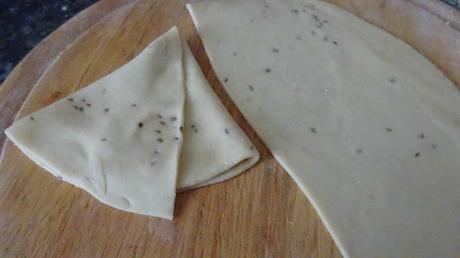 Place the filling inside the trianangle as shown.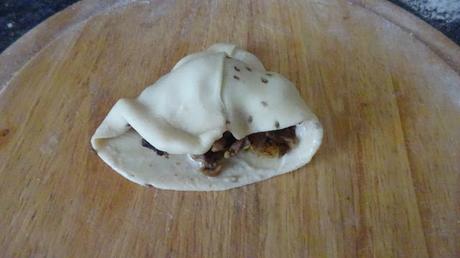 Trim off the extra ends and apply water or (a paste made with flour and water) at the base. Press the base of the triangle to seal.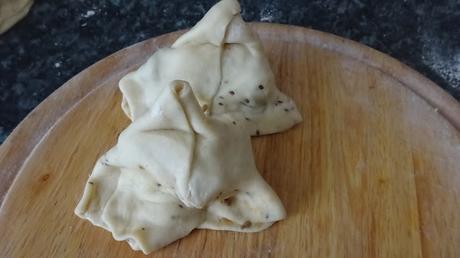 Heat oil to medium hot and fry the samosas until crispy and golden brown on both sides. You might have to turn the samosas a couple of times to ensure even frying.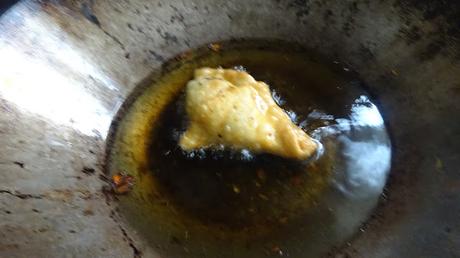 Remove the samosas from oil and place on a paper towel to remove excess oil. Serve with chutney or ketchup.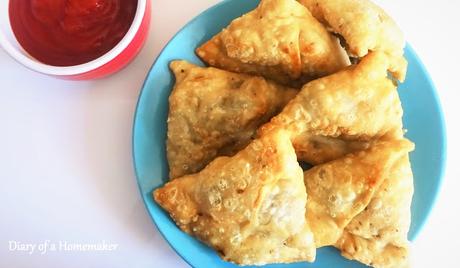 I hope you will make this recipe for mushroom samosas some day. Don't forget to share with your friends and family. I would love to hear your samosa making experience.
Boun Appetito!
Check out Labanese Sfeehas Recipe and Couscous and Vegetable Cutlets for interesting snack ideas.