Do you use moringa leaves in your dishes?
Have you used murungai keerai podi for dosa and idli?
How to prepare drumstick leaves chutney powder?
Is drumstick leaves good for kids?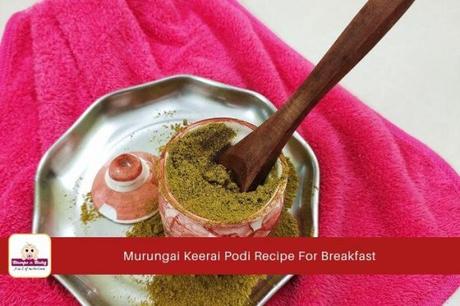 More than being a side dish to idli or dosai, for me murungai keerai podi has lots of memories associated with it. At the age of 7, I was enrolled into a boarding school. I was a boarding student for 17 years.
Being away from home and dependent on hostel mess , my Amma used to always worry about my keerai intake. Keerai in tamil means any leafy vegetable. One way to ensure I had enough greens in my diet was to make them into powders or podi at home and send it to me. I can have two more idli or dosai when podi is on the side.
One of the fond memories about the boarding school days are these podi packets, peanut and sesame laddus, and pickles that came from my mom's kitchen, carefully packed with love. My friends too used to wait eagerly for my mom's chutney podis and pickles. They were a saviour during my hostel days.
Back then, when communication was mainly through letters, I used to include my lengthy wish list in every letter sent home. Moringa podi was always on the wish list. The aroma that spreads in the hostel room each time I open those packets of love from my mom and that sheer happiness of having homemade items are still cherished in my mind as pleasant memories.
Rewind forward, I am now myself a mom to two beautiful girls, and nothing has changed much when it comes to these packets of love from my mom. Even now I send her my wish list of homemade podis and wait for her to send me them as courier. Only change is that earlier my wishlist was on those blue inland letters, and now they reach her as WhatsApp messages or phone calls. 🙂
Benefits Of Moringa Leaves
Recently drumstick tree or Moringa oleifera is getting a lot of attention in western world and we can even see advertisements and promotions for moringa health supplements and moringa powder drinks.
Even before moringa gained its superfood status, recipes with this green leaves are so common in South India.
We already have an article in the blog discussing 10 Amazing Benefits of Moringa Leaves During Pregnancy and Motherhood.
Drumstick leaves are packed with lots of vitamins and minerals. It also contains calcium, protein, iron, and amino acid which will help your body heal and build muscle too. It also has antifungal and antiviral properties along with being antidepressant and anti-inflammatory.
A handful of drumstick leaves has as much vitamin C as 7 oranges and 3 times more iron content than a handful of spinach.
A handful of drumstick leaves also contains 4 times calcium than a glass of milk and is also rich in potassium.
For lactating moms also drumstick leaves can be included in diet to boost lactation and as a remedy for constipation. Drumstick or moringa leaves stir fry to boost lactation is even a well recommended recipe as a part of a postpartum diet.
Also check out this moringa leaves soup recipe for babies and moms.
Moringa Chutney Powder For Dosa and Idli
Usually drumstick leaves or murungai ellai are used to make poriyal, kootu, and poricha kulambu, but here dry moringa leaves are powdered and used as an ingredient in chutney.
This special moringa leaves chutney recipe or murungai keerai podi, as we call it, is served as a dip for dosa or idli along with sesame oil or ghee or coconut oil. It goes well with rice too. I sometimes have it with bread too.
Moringa powder benefits are numerous that we can't simply ignore this simple chutney podi from our breakfast table. This drumstick leaves powder is also a good alternative for kids who are picky eaters when it comes to greens.
Also see: 5 Chutney recipes for toddlers and kids.
How To Make Murungai Keerai Podi For Dosa?
The process of making drumstick leaves podi is simple. It can be made with ingredients that are easily available in any Indian kitchen. So here goes the moringa powder recipe which is a nuterient packed side dish for breakfast items.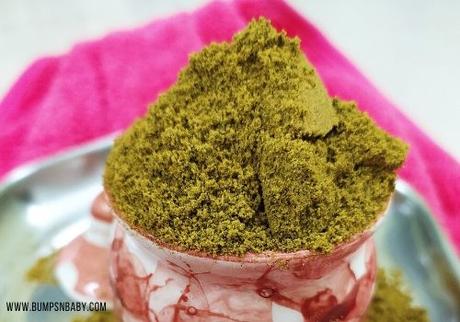 INGREDIENTS
Drumstick leaves : 2 cups
Urad dal : 2 tablespoon
Chana dal : 3 tablespoon
Ground nut : 4 tablespoon
Sesame seeds : 1 tablespoon
Red chili : 10 or according to your spice level
Asafetida / Hing : ¼ teaspoon
Salt : as required
METHOD:
Wash the drumstick leaves thoroughly in turmeric water
Dry the washed drumstick leaves well in the shade
To see if the moringa leaves are dry, check if the leaves crumble easily when crushed with hands
In a pan, dry roast in low flame, urad dal, chana dal, groundnut and sesame seeds separately one by one.
Keep them aside to cool.
In a very low flame dry roast the dried drumstick leaves for a few seconds.
Once everything cools down add hing and salt.
Now let's powder it.
Begin with leaves, urad dal and chana dal with salt and hing. Powder it coarsely.
Next add the sesame seeds and groundnuts. This makes sure the powder doesn't turn sticky.
Mix well with a spoon and once it is cool, store it in an airtight container.
Your drumstick leaves chutney podi is ready. You can store it in a dry airtight container and it will stay good for one month. You can also put it in the fridge if you want to save the chutney podi for long. The murungai keerai podi stays fresh for almost 6 months if properly stored in the fridge.
Serve the podi with sesame oil or coconut oil as a dip for idlis and dosas. Your kids won't resist taking drumstick leaves in this form. And I am sure just like my kids, your kids will also eat 2 idlis more than usual if this moringa chutney podi is the side dish.
Do try the murungai keerai podi recipe and also do mention in what all other ways you include drumstick leaves in your diet.