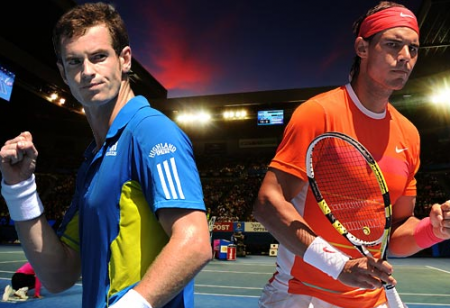 Nadal beats Murray 6-4 6-4 3-6 6-3
So we come to the second semi-final of 'Super Saturday', and it has a lot to live up to. The first was intense, exciting and produced an incredible level of play. Unfortunately, Andy Murray was not able to live up to this. He was absolutely dominated by Nadal for the first two sets, and after a brief respite in the third, Murray wilted in the fourth.
I will firstly say that for most of the match, Nadal played ridiculously well. He was moving as well as he always does, and was making some ridiculous shots on the run, even by his standards. This meant that his defence, and counterattack was as good as it's ever been. However Nadal was more aggressive than he has been in the past. When Murray beat Nadal at this stage in 2008, it was Nadal's passive tendencies that lead to his defeat. However he came out firing this year, and for two sets, was incessantly on target. While Murray did manage to step up from the passive brand of tennis he usually displays, he was unable to keep up the intensity and stubbornness which Djokovic has shown in his victories over Nadal. In the set he won, Murray started to employ the tactics which have worked for him in the past. He put some extra power and depth into his groundstrokes, and attacked the net with a large amount of success. However he was unable to maintain this play, and allowed Nadal to dominate the final set.
What was most disappointing about Murray was not how he was hitting the ball, but his attitude throughout. It's easy to be positive when things are going well, but for the first two sets, Murray was stuck in what can only be described as a childish strop. He was smacking his racket against his shoes, constantly berating himself, and looking up to his camp as if everything was their fault. Roger Federer was famously a racket-smasher as a junior, but whereas the Swiss star outgrew these childish antics, Murray has not. It's fine to be passionate, and use your anger, but to be stroppy is negative because Murray does not only get down on himself, but he becomes the antagonist in the eyes of the crowd, especially in New York where the fans are certainly not fans of a tantrum. Whereas Djokovic showed his growth in the first semi-final by dealing magnificently with the crowd's adversity, Murray showed that he is no more mature in his mindset than he was when he turned pro.
The energy which Murray wastes on frustration is in my opinion the reason why he cannot keep up the intensity when he needs it, and because of this, I don't see him beating the top guys over five sets. Until he sorts out his mentality, he won't win a grand slam. This is the third successive slam in which he has lost to Nadal in the semis, and this will continue if Murray doesn't take ask some serious questions of himself in the off-season. I have no doubt that he will work his arse off to maximise his physical abilities over the winter, but what he really needs to do is bring someone into his team who can change his attitude. He has the technique and physical prowess to win a slam, but until he utilizes his talent to its full potential, he will go down as one of the best players never to win a slam.