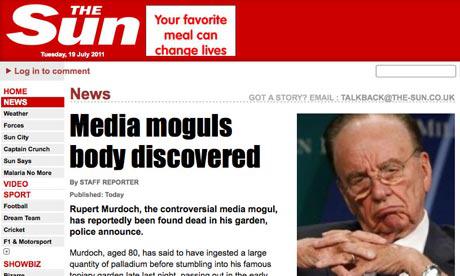 "image courtesy of The Guardian."
Media mogul's body discovered, that was what greeted readers of the Sun's newspaper yesterday in a classic (if childish) hacking effort from LulzSec.
"Childish, you say?" won't this upset LulzSec and make you a target?
Well, let me explain. Yesterday, I blog'd about ex-Chief Threat Assessment Analyst Tony Farrell about his 'submitted threat assessment report' that stated, "Government-sponsored terror is MORE OF A THREAT than Muslim terror." and I was about to add to that post (this morning) that I'd awoken from sleep SUDDENLY AWARE of what was going on wtih the phone hacking scandal, the police and the government.
Let's look for context to my cleverness.
Tony Farrell's accusation that the government is involved in 'the 7/7 false flag' as he put it was surely one of those 'alternative/conspiracy news' items that no readers of Free Planet would ever expect to be covered by THE MAINSTREAM MEDIA. It wasn't a story likely to scroll across the BREAKING NEWS tickertapes of Fox News or Sky News or the BBC. It was too 'out there', too 'unbelievable'.
But wait a minute.
Currently, Rupert Murdoch is in a (Corporate War) WAR with the British Government over the phone hacking and Met-paying scandal. So, for a Rupert Murdoch newspaper THE SUN to break the (outrageous?) Tony Farrell 7/7 story into the mainstream is significant, surely? It's not an actual blackmail because The Sun (as is their wont) plays the Farrell story for fake laughs, presenting him as a bizarre cop and all that. After all, Farrell has a bald head and he looks like a mental patient in the image The Sun chose to use.
But that's just raggy editorialising ... or is it?
Rupert Murdoch had to close down the first ever newspaper of his global empire, the News of the World, because of a still-exploding hacking scandal. His daily newspaper The Sun then permits a drive-by editorial like 7/7 was a plot by the government to go mainstream.
On the day of the Farrell release, The Sun's website is hacked by LulzSec (an Anonymous-alike hacker group) who remain a mystery, as far as members and motive are concerned. This is on the day that Rupert Murdoch, his son James and Rebekah Brooks (nee Wade) are to appear in front of the Culture, Media and Sport committe about the hacking/Met scandal. This on the day AFTER chief witness against David Cameron's ex-spin doctor Andy Coulson, ex-celebrity journalist Sean Hoare, has been FOUND DEAD and his death is not being treated as suspicious by the Met. This on the day that David Cameron is being brought home early from his African visit to face continued questions from the opposition.
May we live in interesting times, indeed.