This weeks blog is in anticipation of the up and hopefully coming tomato crop. I have to admit, between the weather and the deer this year, I am keeping my fingers crossed that my crop even exists…
But if it does, I will for sure make this soup, it is totally delicious and doesn't even compare to canned tomato soup.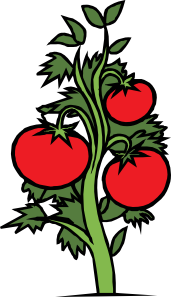 Tomato Soup:
In a large saucepan saute 2 medium size coarsely chopped onions and 2 crushed cloves of garlic in 1/4 cup butter until onion is tender.
Add:
 4 pounds peeled, seeded (I leave the seeds in mine) and coarsely chopped, very ripe tomatoes.
6 cups chicken broth,
4 tbsp tomato paste
1 1/2 tsp salt
1/2 tsp coarse pepper
Simmer, stirring occasionally, 15 minutes or until slightly thickened.
Remove from heat, cool slightly. Puree in food processor or blender, return to saucepan. Stir in 1/3 cup chopped fresh basil, heat gently.  Serve hot!!
Have a wonderful Monday my friends…