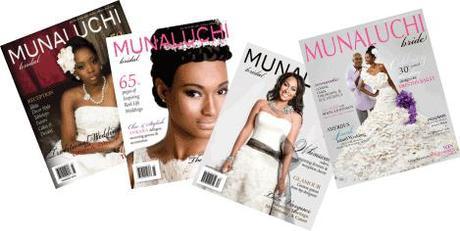 CT-Designs had such an unusually busy Fall and early Winter season that I didn't get a chance to post my thoughts on Munaluchi Bridal magazine.  If you are like me, you may have wondered about this
fairly
new publication, but were just too busy (or lazy) to research it.
Today's blog is for that audience, and here is the skinny and what you need to know!
Why Munaluchi?
Munaluchi (Moo • nah • lucci) is a combination of two African names (one Ethiopian and the other Nigerian), which when fused together mean "Beautiful Work of God." In the About Us section of the magazine's home page, it is stated that the publication is "for the bride who craves culture and style..."
How Is It Distributed?
Munaluchi is published twice a year, can be purchased on their website and is widely available on newsstands.
How Many Issues Have You Missed?
There have been four. The Premiere issue, Spring/Summer 2010, Spring/Summer 2011 and the current issue, Fall/Winter 2011. You can order back issues here.
What Can You Expect?
This magazine is in a word, fabulous. The art direction and layout of the publication is top-notch, it is content-rich and the photography is simply dazzling. Page after page after page of brown brides, featured in editorial shoots as well as real weddings is really something to behold.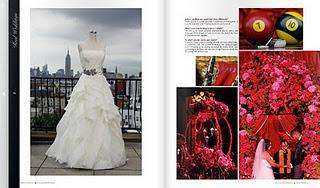 VH1's LaLa Vasquez and New York Knick Forward Carmelo Anthony's nuptials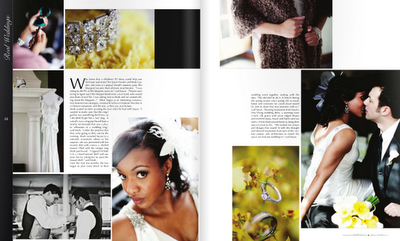 Real Wedding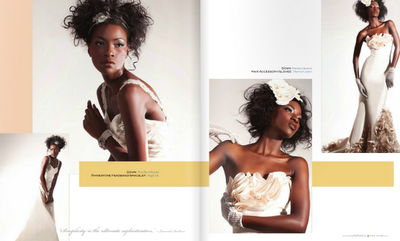 Editorial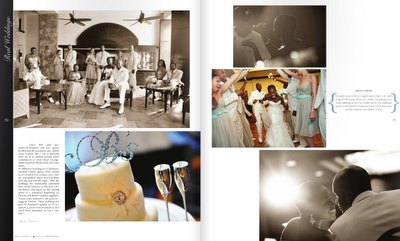 Another gorgeously shot real wedding
You must experience it for yourself. Munaluchi has been kind enough to
archive back issues digitally.
Is Brides Noir Still Being Published?
Oddly, their Facebook page has been down for some time now, their Twitter feed has not been updated since May of 2010 and their last issue dates back to December 2010. I thought that Munaluchi Bridal would JOIN Brides Noir as the second bridal mag aimed at women of color, however they are now likely the sole publication in this category/niche. 
To read more about (and to connect with) Munaluchi Bridal, check out the following links:
Munaluchi Bridal Home Page
Munaluchi Bridal Blog
Munaluchi Bridal on Facebook
Munaluchi Bridal on Twitter
Munaluchi Bridal Purchases and Subscriptions
Munaluchi Bridal editor Jaqueline Nwobu interview feature on Brides Cafe Blog