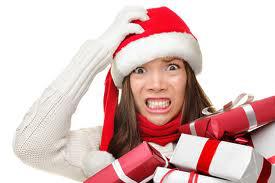 We all feel it right? That mommy guilt at Xmas?
Have you spent enough money on your kids? Have you bought them enough? Have they got everything they wanted?
What when the finances do not stretch to everything they wanted? We feel a failure.
Will their friends at school get more than them? Better brands than them?
Does it really matter?
No matter how much we spent, no matter how many presents we buy all mums have that tendency to feel some form of guilt.
The older child has more presents than the baby as the baby does not understand yet alone need more toys.
We have scrimped and saved and gone without ourselves to ensure we have done the best we can.
Do we forget the real meaning of Xmas?
Are we teaching our child that presents rather than presence is more important?
Is Xmas not the time we spend with loves ones and bring all the family together? A celebration to spend with loved ones? Has it all been forgotten? The birth of Jesus, does any of that matter these days?
Is it all about the money and presents? The stress and the debt and the arguments between mom and dad as mom has it all to do alone?
We as mums spend so much time stressing and worrying and feeling guilty and a failure that by the time Xmas comes across we are all burnt out and do not enjoy it as much as we should.
Do you feel Mummy Guilt at Xmas?