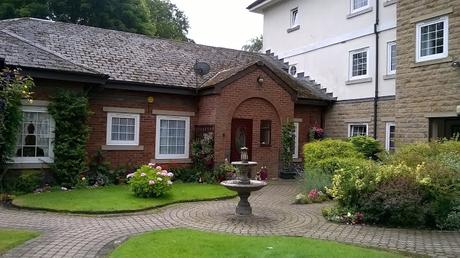 Last week after my 'Ladies who Lunch - Round Two' post, someone asked to see Mum's garden so here, in all it's small but perfectly formed beauty it is.
Mum lives in this little bungalow in a small development in Sale, Cheshire.  Hers is the brown door with the two windows to the left of it, confusingly the little brown window to the right of Mum's front door is her neighbours on the righthand side hard up against the flats that form the rest of this development.  The other window on the far left with the greenery growing around it is her other neighbours.
The communal gardens that wrap around all four sides of the development are kept immaculate, with the grass mown regularly and trees and bushes trimmed by a regular gardening team.  The floral delights and extra maintenance is all done by Mum's neighbor to the right Hilary, who works really hard keeping everything in tip top condition and who took over from Mum last year in making sure the little fountain is always clean, not an easy task when the Magpies, Rooks and other birds all come to bathe in it daily.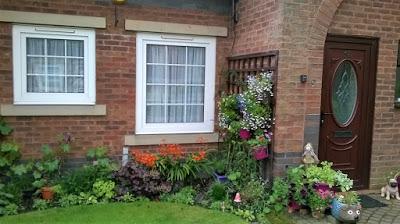 Mum's little bed, that runs just underneath her windows, was neat and tidy when she first moved in but very sparsely planted with just generic plants to match into the other borders.  After a couple of months Mum set to filling it with all her favorite plants.  Growing some from seed on her little kitchen windowsill and buying others from the various garden centres she goes to either with me or my brother.  She soon had it looking lovely, and each year the color scheme varies slightly, with more and more pots and planters being added near the door.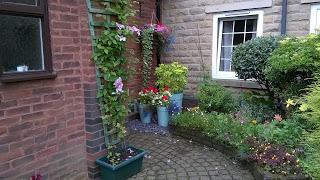 Hilary's little patch next door is equally colourful and is full to bursting with all sorts of flowers and shrubs.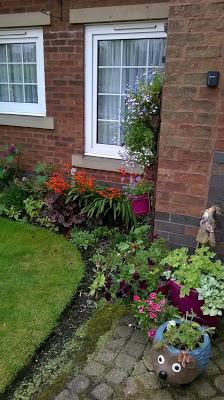 It shows what a lot you can fit in a small space if you crave color and beauty.  While Dad was the main vegetable grower of the family, Mum always loved flowers and their allotment was softened with lots of flowery areas, attracting all the beneficial insects to their plot.  You can see where I get my green fingers from looking at Mum's plot ...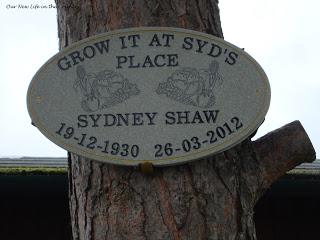 ... and seeing the plaque that fellow allotmenteers put up to honor my Dad, outside the Trading Hut at the allotments where they used to grow.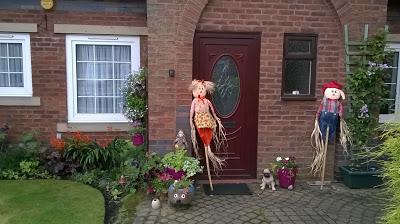 Oh .. and there might have been a few more sale purchases made yesterday .....
Sue xx