New to little Indiana? Subscribe for free to my RSS feed. Thanks for stopping by!
MulberryFest in Mulberry, Indiana: Notice the Sign Mentions Home Delivery!
Mulberry, Indiana is a very small town. But they sure know how to put on a party!
MulberryFest in Mulberry, Indiana
There's the awesome Roberts' Southfork Restaurant and Pub (eat onion rings FOR SURE), a scattering of businesses downtown, and that's about it. But each summer on the first weekend in June, Mulberry becomes a hub of activity because of their annual MulberryFest!
To start with, there is a town-wide yard sale. That means that there are many, many yard sales! I would say that I managed to ignore them all…but I would be lying. Kid #2 got a new boat for the bathtub.
MulberryFest Car Show and Events

Rolling into Mulberry, hubs was ecstatic to see a car show. There were so many sharp cars. It was incredible. I took a lot of pics that I will be sure to share with you.
My preference runs toward the 50′s cars with all that shiny chrome. Kid #1 is with me on that. Hubs likes the muscle cars–the old mustangs are his thing. Kid #2? He thinks it's all pretty cool.
MulberryFest  had a fantastic turnout, even with the heat! They had a stage set up in the middle of the downtown. Did you know that Mulberry is the old stomping ground of American Idol finalist Amanda Overmyer? Neat, eh?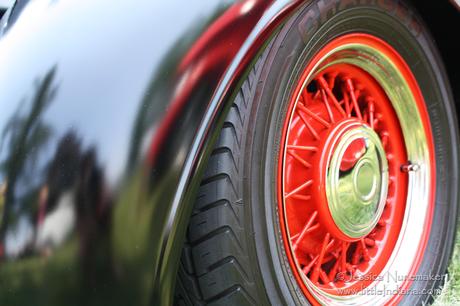 MulberryFest in Mulberry, Indiana Car Show
We browsed booths, listened to songs on the stage, and had a really good time. Both the kids loved the Cake Pops from the booth by Le Petite Pearl though teething Kid #2 concentrated more on the stick!
Next Year
Jot down the date in your planner for the next annual MulberryFest! I'm pretty sure the whole town turned out. What a fun afternoon!
I do have to say this is the first I've ever seen for home delivery of a meal! Does that scream small Indiana town or what? Gotta love that sense of community!
Mulberry, Indiana

View Larger Map
little Indiana: Where to Stay, Play, and Eat in Small Towns in Indiana. Discovering Indiana's best small towns! Now get little Indiana on your Kindle.
New! Offering affordable online advertising for your small Indiana business! little Indiana Businesses is the online presence that you've been looking for.