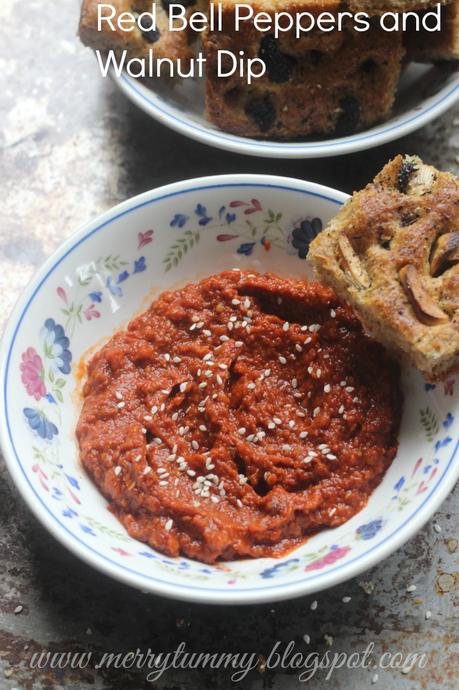 A dip is the favorite thing in summer. Just have some nachos, crackers or toasted bread, serve it as starter, appetizer or a party snack. Keeping British summer in mind, I tend to change dip in my kitchen. But always a dip is needed for Friday up till the weekend. Some days are hot and then I craft quick refreshing dips like pomegranate yogurt dip, roasted kiwi dip or plain simple tomato salsa. Then there are milder windy days that need something spicy, and then I make roasted tomato dip or hot Indian garlic dip.
Today is another such day when I am sharing a spicy, hot and pungent dip. But this time it isn't an Indian dip, it is a Turkish dip called as Muhammara. You remember my post about Turkey through my lens? It was there where I mentioned how I loved a spicy dip in Istanbul. Well, I almost forgot to search for its recipe, until one day I visited a Turkish restaurant near my house. I knew I had to make this at home pretty soon.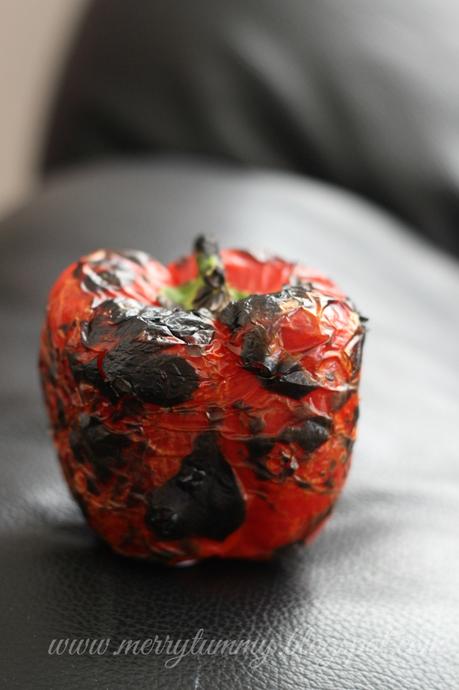 I tried to make it as authentic as possible without putting in my Indian brain and I was not disappointed. Anyone who loves spicy food will love this dip undoubtedly. It gets smoked taste from roasted bell peppers, crunch from walnuts and creamy texture from olive oil-over all it has everything you need in a dip. Forget hummus and chutney, give this dip a try and bring a little turkey in your home.
Author: Shweta Agrawal
Cuisine: Turkish, Middle Eastern
Serves: 4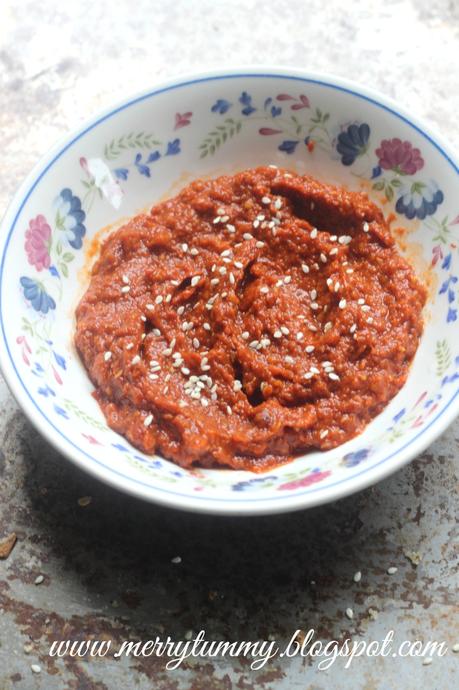 Ingredients:4 large red bell peppers2 sliced of bread1/4 cup walnuts2 whole dry red chillies1 tomato chopped2 tablespoons olive oil +2 tablespoons more1 clove garlic1/4 teaspoon cumin powder1/4 teaspoon red chilli flakes1 teaspoon sesame seeds to garnish (optional)
Method:
Ground walnuts in the grinder into fine paste.

Soak red chillies in water for atleast 1 hour.

Preheat the oven to 220C/430F. Arrange the peppers on a large baking tray and let roast for 30 min, or until the peppers' skin get covered with occasional black spots. Set aside to cool. When the peppers are cool enough to handle, remove the stems along with the seeds and peel off the skins.

Put everything together in the blender or grinder or food processor and blend into smooth paste.

Heat remaining 2 tablespoons oil in a pan. Add blended paste in it. Mix for 2 minutes on medium heat.

Serve with sprinkle on sesame seeds.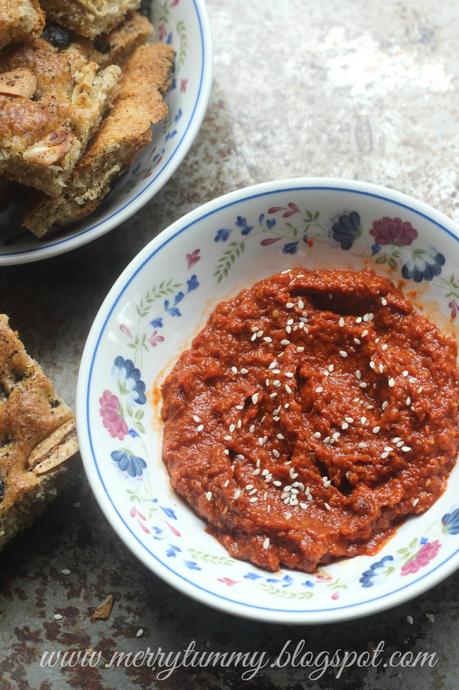 Notes:
You can use ground walnuts as well.
This is a spicy dip, if you want to make it milder skip whole dry red chilies or chilli flakes.
Serving suggestions:Serve with nachos, chips or crackers.Ideally it is served with warm pita bread.I served it with black olive focaccia. Will go well with any roasted bread.Can be used as spread for sandwiches, wraps and pita pockets.