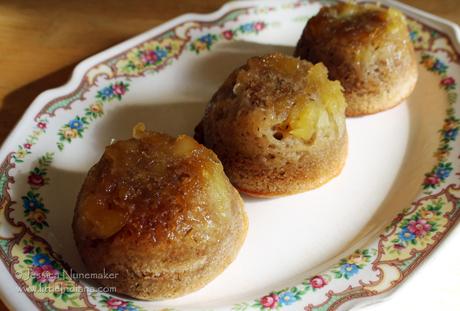 Pineapple Upside-Down Muffins Recipe
With leftover crushed pineapple in the fridge begging to be used, I turned to this Pineapple Upside Down Muffins Recipe.
Just like Pineapple Upside-Down Cake, these muffins cool and are flipped over–making a very nice presentation.
Top with a cherry and make them extra pretty! We didn't wait for these to cool, but dug right in. Yum!
Pineapple Upside-Down Muffins Recipe
Print Pineapple Upside-Down Muffins Recipe
Rating: 51
Prep Time: 10 minutes
Cook Time: 18 minutes
Total Time: 28 minutes
Yield: 12 Muffins
Serving Size: 1 Muffin
Very different muffin--and very good!
Measure the buttermilk into a large measuring cup, then add in the egg melted butter to that to minimize clean-up.
I think it would also be cute to top with a cherry.
Ingredients
1/4 Cup Butter, Melted
1/3 Cup Brown Sugar
8 0z Crushed Pineapple, Drained
1 1/2 Cups Flour
1/2 Cup Sugar
1/4 teaspoon Salt
1/2 teaspoon Baking Soda
1 teaspoon Baking Powder
1 teaspoon Cinnamon
2 Eggs, Beaten
1 Cup Buttermilk
2 Tablespoons Butter, Melted
Instructions
Preheat oven to 375*.
Grease muffin tins. Set aside.
Spoon melted butter evenly into tins (approximately 1 teaspoon-sized spoonful).
Sprinkle Brown Sugar over the top.
Set aside.
In a bowl, combine remaining dry ingredients.
Make a well in the center.
In another bowl whisk together Eggs, Buttermilk, and Butter.
Add quickly to flour mixture. Combine. Do not over-mix.
Spoon batter to tops of muffin tins.
Bake 18 - 25 minutes or until toothpick comes out clean.
Cool. Remove from pans.
Serve Pineapple side up.
Notes
From The 250 Best Muffin Recipes by Esther Brody. I know a few small town bookstores where you can try to find this one. It's great!