New to little Indiana? Subscribe for free to my RSS feed. Thanks for stopping by!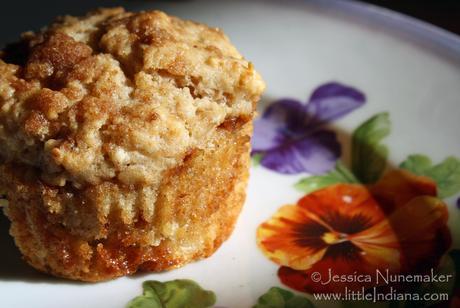 Apple Muffin Recipe
It's Indiana Apple Orchard and Pumpkin Patch time again. As much as I don't want to admit it: Autumn is here. What better way to celebrate than with these golden delicious Apple Streusel Muffins?
Indiana Apples? The Solution!
Did you over-pick apples again? These muffins are fantastic–and the new favorite of Kid #1!
While relatively easy to throw together, the most time consuming portion is shredding the apples, so don't approach this recipe unless you have a kitchen helper or a handy-dandy gadget to speed up the process. These smell so good! I"m sure they'll be a fave in your house, too.
Print
Add this recipe to ZipList!
Muffin Recipes: Apple Streusel Muffins
From: The 250 Best Muffin Recipes by Esther Brody.
These are the new favorite in our home. Kid #1 requests these often!
Ingredients
Streusel Topping
1/3 Cup Brown Sugar, Packed
2 T. All-Purpose Flour
1/3 Cup Chopped Pecans (Optional)
Muffins:
1 1/2 Cups All-Purpose Flour
1/4 Cup Sugar
2 teaspoons Baking Powder
1/2 teaspoon Cinnamon
1/4 teaspoon Salt
1/8 teaspoon Nutmeg
1 Cup Peeled Apples, Shredded
1/2 Cup Milk
1/4 Cup Vegetable Oil
1 Egg, Beaten
Instructions
400* Oven.
Grease or paper-line Muffin tins. Set aside.
Combine Brown Sugar, Flour, Cinnamon, Butter, and the Pecans (if using). Mix well and set aside.
In another bowl, sift together Flour, Sugar, Baking Powder, Cinnamon, Salt, and Nutmeg. Combine. Add Apples.
Make a well in the center. Mix together Milk, Oil, and Egg, then add to the dry ingredients. Mix only until moist. (I sometimes add a teaspoon of vanilla, too)
Spoon into tin. Fill slightly less than half-full.
Reserving 3 Tablespoons of Topping, Sprinkle on muffins. Add remaining batter and sprinkle the reserved topping over the tops.
Bake for 20-25 minutes or until golden.
Google Recipe View Microformatting by ZipList Recipe Plugin1.3
http://littleindiana.com/2011/09/muffin-recipes-apple-streusel-muffins/
Photos are the Property of little Indiana. Do Not Use Without Permission.
little Indiana: Where to Stay, Play, and Eat in Small Towns in Indiana. Discovering Indiana's best small towns! Now get little Indiana on your Kindle.
New! Offering affordable online advertising for your small Indiana business! little Indiana Businesses is the online presence that you've been looking for.