I can't be the only person who has become entirely desensitised to the word VAGINA. VAGINA VAGINA VAGINA. It's as much part of my lexicon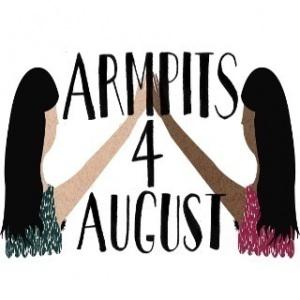 Image courtesy of www.cargocollective.com/sarahjuliaclark via www.armpitsforaugust.com
as 'salt', or 'telly'. Wherever I look, there it seems to be  - from Femfresh products ('Say Woohoo to your Froofroo!') to Jamie McCartney's mural of vagina plastercasts. No wonder: the word is a key part of feminist literature and drama, and, for decades, it's been the choice of setting for a battleground of the sexes.
For years, our vaginas have been subjected to patriarchy in the form of porn fetishes, innuendos and British embarrassment; feminists are on the march to reclaim them. In her Vagina Monologues, Eve Ensler claims 'Vaginas are beautiful. Our self hatred is only the internalised repression and hatred of the patriarchal culture." For Caitlin Moran, they are "intimately associated with sexual maturity": so much so that she thinks everyone should name theirs. Sweet Fanny Adams, anyone?
They're right, of course. We should be ashamed of our Cupid's cupboard no longer. Ditch the razor! Leave your muff unshaven and free. Name it! and feel comfortable with your lady garden.
But when we're not busy naming, untaming and reclaiming our vaginas, there's more important work to be done. More real, direct action that will make a visible impact on those who aren't your nearest and dearest. (And let's face it – most people who see your glorious unshaven muff will be the latter.) In fact, whenever I hear somebody proudly proclaiming they refuse to shave their nether regions, I can't help but think – Ladies: is this even an issue any more?
The REAL taboo issue here is the visible hair. The hair that everyone – at work, on the Tube, at your friend's friend's house – will see. This is armpit and leg hair, and it's the big hairy elephant in the room.
Some of my greatest feminist idols have let me down on this issue. Caitlin Moran got around this issue neatly, claiming that she's had her armpit hair many different ways (albeit in a drunken, festival-goer way). Shaving your 'wookie' is a far greater issue, she says, because it's a more private, sexual part of women's anatomy – and one that has for years been appropriated by the whims of male desire.
This may be true, but women's on-going sexual liberation can hide a host of other ways in which gender inequality growl[er]s on. One of those is a question of maintenance. Men can grow their armpit hair shaggy and long, so why not women? Is it the smell (by all accounts, not markedly different) or the colour? When journalist and Vagenda warrior Emer O'Toole bared her hairy pits on Breakfast, most papers trumpeted the phrase 'daytime TV' – as though such horrors should only be shown post-watershed.
And what about men's legs? A man can bare his hairy pins at any part of year, but women giggle nervously about 'nobody needing to see' the monstrosities they have hidden under their tights. When they eventually venture out into the open by midsummer, they are raw: plucked and pruned to pink perfection. And forget sitting back and just enjoying the breeze, because those hairs will be back. They always are. In our quest to look like a succulent Sunday bird, we find ourselves in a Groundhog Day of high maintenance: a secret care regime that would astonish most men.
The underlying psyche runs similar to this. Women need to present. Their natural selves are not enough: they need to scrub and mold and polish themselves to appear normal. More womanly. The myth of the fairer sex, it seems, has yet to die. And while growing your muff hair can empower a person, it's the hair society can see that is a key part of this myth.
As Eve Ensler, that original PR person of vagina – said in her play Good Body, "After I had done 'The Vagina Monologues' I was feeling pretty good about my vagina. I thought I was kind of home free, and then I looked down one day and discovered my not-so-flat post-40-year-old stomach and I realized the self-hatred had moved up". And moved up, one might add, to a part of her even more subjected to the actual public gaze.
Across the world this month, Armpits4August is challenging the way people talk about and view female body hair. It's bold and it's brave and it's putting gender equality right in the bars and gyms and offices where it belongs. Growing your hair doesn't just save you time and money. It's that personal, 'gasp in the bathroom mirror' moment when you can fully reclaim your natural, hairy body. To embrace that, and to challenge others, pits beat muffs. Hands down.