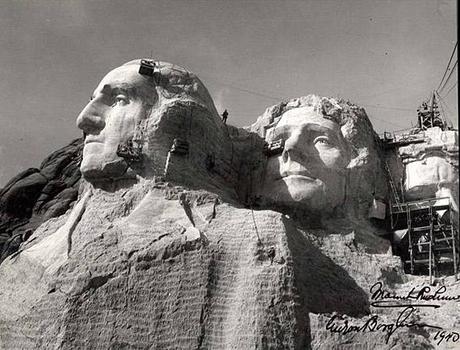 Detail of Mount Rushmore (Heads of Thomas Jefferson and George Washington), photographed by Charles d'Emery, Photograph Archives, Smithsonian American Art Museum
Seventy years ago this week, on October 31, 1941, Mt. Rushmore was completed. More than 90 years ago work began on this iconic image of four presidents carved in granite rock on a mountainside in the Black Hills of South Dakota. Assisting the sculptor Gutzon Borglum (1867-1941) were 361 local miners who used dynamite, jackhammers, and drills to remove the excess rock. Borglum and his assistants, working from wooden seats suspended over the side of the mountain, smoothed the surface using small air hammers. After Borglum's death in 1941, his son Lincoln continued the work until funds ran out later that year. Between the start of the project in 1927 and the end in 1941, nearly $990,000 was spent, of which $836,000 came from Federal appropriations.
The American Sculpture Photograph Study Collection was originally compiled for study purposes and acquired by the Smithsonian American Art Museum's Research & Scholars Center in 2005. The photographs, shot mostly between 1910-1930, document sculptures and outdoor monuments across the country, including several photographs of Mount Rushmore during its construction.
Robin Dettre contributed to this post.