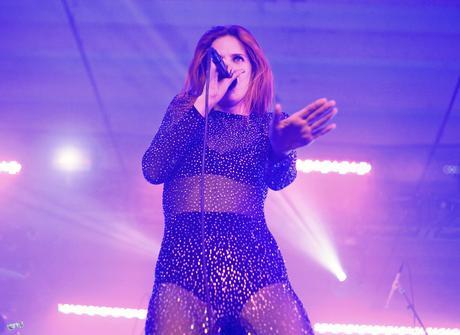 Photos by Joseph Mikos
Jukely did it right with their showcase, from the venue to the perfect mix of eclectic music. We arrived right before San Fermin hit the stage, and within 10 minutes, the crowd doubled. San Fermin captivated the crowd, from the whimsical voices of singers Allen and Charlene to the beautiful classic sax, violin and trumpet. By the time MS MR stepped onto the stage, the huge warehouse was packed and ready to dance. MS MR delivered, as always, with the upbeat sounds and energy that the crowd expected.
Not one person stood still throughout the entire set, especially the band. Lead singer Lizzy Plapinger never stopped dancing while belting out every note beautifully. If you didn't break a sweat during their set, you may not have been conscious. The night did not end with them though. Jukely added some late night DJ sets to the mix which included: Mat Zo, Slow Magic and Madeon. Each DJ had a different style, and each kept the warehouse dancing and smiling.
MS MR


















San Fermin





Slow Magic


Matt Zo