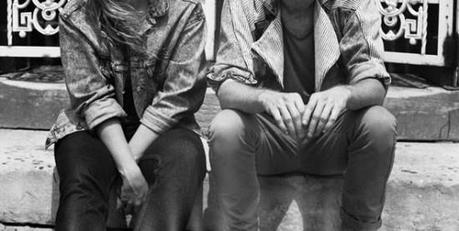 Enigmatic duo MS MR (@msmrsounds) have remained more or less a mystery since propelling into the scene several months ago. With the release of their debut single "Hurricane" (out July 2 via Iamsound/Chessclub), they've made quite an impact, peaking at #1 on Hype Machine just a few weeks ago. Their quick ascent to popularity garnered them a booked tour supporting Marina & the Diamonds, along with a handful of smaller shows.
Last Friday, we caught their set at Glasslands in Brooklyn, opening for Xylos. It was obvious that they were still tweaking several aspects of their live show, especially the vocal loops (they've only performed a handful of gigs), but they held the audience captivated — mainly by their X-factor worthy combination of endearing stage presence and playful interaction. The on-point production was transferred to the stage largely by drummer Zach Nicita, who also plays with Alex Winston.
We first came across MS MR by way of their formerly free EP on their Bandcamp page. You can stream several of the tracks on their Hype Machine page here (my personal favorite is their cover of Patrick Wolf's "Time Of My Life"). "Hurricane", though, offers both a higher production value and more of a focus on arrangement — the ghostly backing vocals and soaring synths are propelled by a thumping slow roller beat. The vocals, provided by the female-half, offer a deep husk that immediately commands attention. With an ethereal quality to the arrangement, "Hurricane" has all the makings of a Florence and the Machine B-side, with the slight experimentation of Poliça.
With the debut video for "Hurricane", MS MR chose nostalgic references and provocative imagery (a trick from Lana Del Rey's playbook) over self-reference. At least Lana gave us some pouty faces to hold us over — MS MR is holding onto the mystery as long as they can.
Check out the video below, and look for their upcoming tour dates and more info on their website here. Their next NYC show will be 6/27 at Santos Party House.