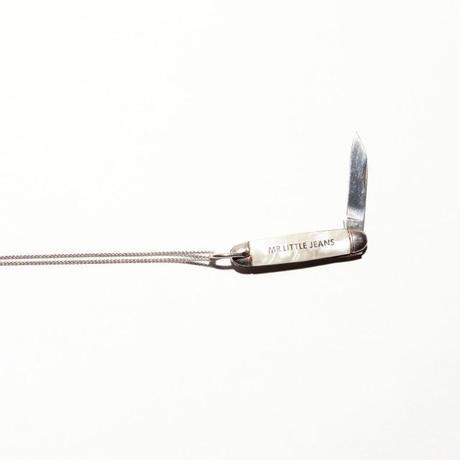 Mr Little Jeans – Good Mistake
SoundCloud
William Shakespeare once asked, "What's in a name?" A timeless question which in all its simplicity chastises the stock we invest in a title, yet even the bard himself might raise an eyebrow at the moniker, Mr Little Jeans. Despite sounding like a zany TV show for hipster children, the name actually belongs to a multi-talented Norwegian. The Mr is actually a Miss — Miss Monica Birkenes to be exact. As for the little jeans? Well, your guess is as good as mine on that one!
For the last few years, Birkenes has been dipping in and out of sight, teasing her increasing fan base with a couple of singles and glimpses at new material every so often. Now four years after first appearing on the public radar, she is unleashing her full-length debut, Pocketknife. Like the title and artwork suggest, the debut exhibition from Mr Little Jeans is attempting to prove itself versatile and equipped with various properties, and for the most part Pocketknife succeeds with this intention. With "Rescue Song" and "Oh Sailor" (the latter being a particular favorite of mine), she shows that she has a natural knack for whipping up charming, likable indie pop that sparkles with whimsy. Despite being around for some time, her cover of Arcade Fire's "The Suburbs" still has a moving effect and shows what she can do with a slightly darker palette equipped with denser atmospheres. She can also cut a mean ballad as the melancholic "Far From Home" proves with distinction. All of these ideas, styles and moods are glued together with Birkenes' vocals which, although hushed and gentle, are not feather light — there is a level of density and weight which anchors them down, allowing her voice to maintain an effective tenderness without evaporating into the background.
Not all of her facets are razor sharp; there is still some fine-tuning to do, and I get the feeling she has even more variety in her creative spectrum that she's yet to explore. The tools within her arsenal on display here mark her out as a force to be reckoned with, though. Whether Pocketknife has been worth the prolonged wait rests entirely on your level of anticipation, but what the album and its curator do show for certain is that Scandinavia really is the sovereign kingdom of synth pop!