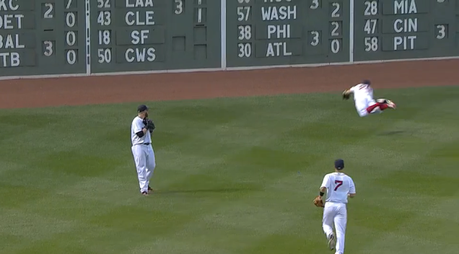 I think it's safe to say that Brock Holt is in Boston to stay.
He's played everywhere this season, and center field last night for the first time, and right on cue, Holt made a dazzling play in the outfield.
In the third inning, Brian Dozier of the Twins hit a ball to left-center that Jonny Gomes totally lost in the sky. The cameras were focused on Gomes, and suddenly there's Holt, making a diving catch in the alley. It has to be seen to be believed, so check it out here. (The look on the faces of Dozier and Jon Lester are simply priceless.)
Holt had two hits last night, stole a base, and scored both runs in the Sox' 2-1 win over the Twins. He's hitting .338. Jon Lester earned his 8th win, and the bullpen was stellar after he left: 2 2/3 innings, one walk allowed. Edward Mujica got the save, as Koji Uehara got the night off. Boy, when I saw that on my iPhone (I was doing Trivia last night and followed the game by phone updates) that Mujica was getting the ninth, I was scared. But he was fine, striking out 2 of the 3 hitters he faced.
Holt is here to stay, but we wish a fond farewell to Grady Sizemore, as he was designated for assignment previous to last night's game. It just didn't work out for Sizemore, as he's clearly a shadow of the player he once was. Too many strikeouts, not enough production in the action he saw. It was a chance worth taking, but it just didn't click. Garin Cecchini was recalled to take his spot.
Today is the final game of the homestand, and a win would mean a sweep over Minnesota and a 5-2 homestand. John Lackey will try to make that happen this afternoon, before the Sox head out west to begin a road trip to Oakland, Seattle and New York.