In addition to their plans to take on smartphone war with Firefox OS, Mozilla is now planning to revolutionize gaming by bringing high-end video games to the web. Company reveled details about their latest partnership with Epic Games to bring Unreal 3 engine online to the browser.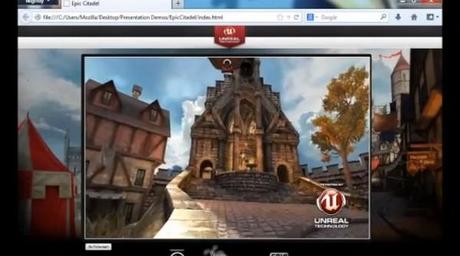 Mozilla hints that soon you will be replacing those cheesy old flash games on your browser with high-end 3D games like Unreal, Gears of War or even maybe  BioShock Infinite.
Although, there's is a problem with playing high-end games online. Ars Technica points out that the loading time of the games would take much longer when playing online since it has to stream all textures, maps and data via online each time when playing. Which could take more than 30 minutes for a level to load. I even hate to stare at the screen for a few seconds when loading levels on console games, I can't even begin to imagine waiting for 30 minutes to play a game online.
Not to worry. The people behind OpenGL, WebGL are currently working on this issue to deliver data formats depending on the speed of the Internet connection to minimize the streaming time. Video below will give you a simple idea about this concept.
So, here's a question: Would you play a game like BioShock Infinite on a web browser rather than playing it on a console, if you had the chance?
[Via: Mozilla making the Web a gaming platform with Unreal 3 engine in a browser Ars Technica]
(All the images, trademarks, logo's shown on this post are the property of their respective owners)
Roshan Jerad Perera