I once played with a catcher who, whenever a runner got on first base, would call for an outside fastball on just about every pitch.  I, along with the other pitchers on the staff, caught on pretty quickly to what was going on.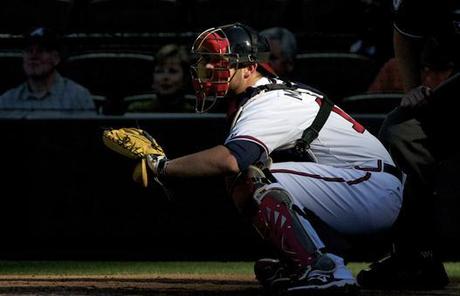 Make sure that guy moves around back there.
An outside fastball would benefit the catcher in his ability to throw out a runner who attempted to steal.  Catchers might claim that throwing out runners helps pitchers as well.  They would be correct but if every pitch called is an outside fastball, I think it is justified to claim that the catcher is more interested in his own stats then helping pitchers get batters out. 
The message I have for pitchers with all of this is that you have to be willing to move the catchers around if necessary.  Don't just accept whatever the catcher puts down as a sign and whereever he sets up behind the plate.  Always remember that the loss goes next to your name not the catchers'.  This does not mean that you ignore the wishes or experience of catchers either.  It's a give and take on both sides.  You have insight from your end and so does the catcher.  Both viewpoints can be helpful to produce a positive outcome but only if there is trust and communication.
Many young pitchers simply throw whatever pitch and location the catcher calls for.  Be willing to say NO and work out signs for location changes (click HERE for an example) as well.  Doing so helps the team.  It also will show well for college coaches and scouts who are watching.  Your assertiveness, knowledge of the situation, and willingness to use both sides of the plate as necessary will leave them with a positive taste for the pitcher.
Tomorrow's Post:  Random thoughts about Fall Ball