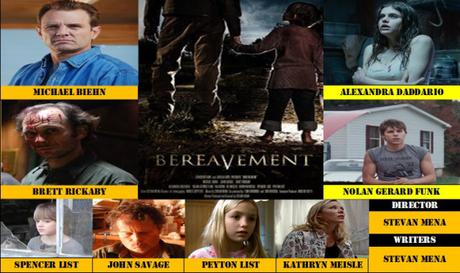 Plot: The horrific account of 6-year-old Martin Bristol, abducted from his backyard swing and forced to witness the brutal crimes of a deranged madman.
There may be spoilers the rest of the review
Verdict: Standard Horror
Story: Bereavement starts as we see a young boy Martin Bristol kidnapped from his own backyard, we learn that he has a condition where he can't feel pain that needs to be watched and checked daily. The man who takes him is a serial killer but that is all we know as we move 5 years into the future to meet Jonathan Miller (Biehn) and his niece Allison (Daddario) who is coming to stay with him for the first time in years.
We learn that the killer is still doing his thing and has Martin with him still, the killer like to kidnap young woman before torturing and killing them. Allison moving to this new area after her parent's die has to learn to be with a new family and it isn't long before she meets William (Funk) to show her around.
When Allison becomes the latest victim we see how she must fight to survive against the killer.
Bereavement is a horror film that plays out like most, we have a character move to a new area where something strange has been happening but not to the levels that anyone would notice. Because she is new she starts piecing it together only to find herself the latest target and then the film aims for shock value of any development. We get something that is the tried and tested theory that will always stick but never test.
Actor Review
Michael Biehn: Jonathan Miller is the Uncle to Allison who has promised to look after her if anything ever happened to his brother and after that tragedy strikes he takes her in. he has to convince her this is right while protecting her from their estranged neighbor. Michael is solid but used mostly because of his name really.
Alexandra Daddario: Allison Miller has to move to live with her Uncle after her parents are killed, she has to adapt to this new town which she doesn't want to be part of where she clashes with her Uncle. Allison ends up getting kidnapped by the local killer and must battle to survive. Alexandra makes for a good horror victim because she will bring in the sex appeal but she just looks too old for this role.
Brett Rickaby: Graham Sutter is the killer that has been taking woman for years, but has always gotten away with it. He believes he is doing this for a greater good as he keeps a young boy to witness everything he does. Brett is solid but you just feel the character needed that final level to him.
Nolan Gerard Funk: William is the local boy that gets the instant attraction to Allison but due to his family's reputation he gets pushed away by her Uncle. Nolan is solid in this supporting role but really doesn't do enough.
Support Cast: Bereavement has a supporting cast that is mostly just disposable characters with no real development given to any of them.
Director Review: Stevan Mena – Stevan gives us a shock film but the problem is that it goes for too many shocks over developed characters.
Crime: Bereavement has a serial killer but that is the only place it goes with the crime side of the story.
Horror: Bereavement uses the killer to kidnap and torture the girls as well as the family.
Thriller: Bereavement tries to keep us on edge through the film as we wait to see how the film unfolds.
Settings: Bereavement keeps us in the farming town where we see how isolated the houses are.
Special Effects: Bereavement uses solid effects for the kills but that is it really.
Suggestion: Bereavement is one to watch late night television only. (Late Night TV)
Best Part: Daddario is good to see in this role.
Worst Part: Lack of character development.
Believability: No
Chances of Tears: No
Chances of Sequel: No
Post Credits Scene: Yes
Oscar Chances: No
Budget: $3.6 Million
Runtime: 1 Hour 43 Minutes
Tagline: There are some evils…so unspeakable…they will scar you forever.
Overall: Horror film that goes for shock value over story telling.
Rating