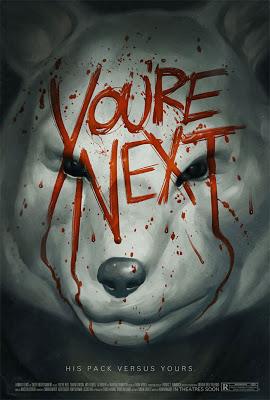 You're Next (2013) or (2011) if you want to be "TECHNICAL"
Starring:

Sharni Vison, Nicholas Tucci, Wendy Glenn and AJ Bowen
Summary: 
When the Davison family comes under attack during their wedding anniversary getaway, the gang of mysterious killers soon learns that one of victims harbors a secret talent for fighting back.
My Thoughts: I saw this last night for my birthday and I had been excited for this movie for A LONG TIME. A LONG TIME. This movie originally came out in Australia in 2011 and I was so upset that I had to wait for it. I knew this was going to be a stupid movie, and it was just that. It was entertaining and funny and not scary at all really, but you know me. Those jump scares get me every time. The movie was basically my friends and I laughing the whole time and the times where we were just like: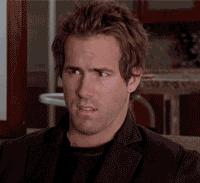 Home invasion movies really scare me. Mainly because it could really happen, this movie did not scare me, but they usually do. The humor of this movie was perfect, so it lessened the scare. At times a little corny, but that was expected. One thing that did scare me was the gore, this didn't take it to an extreme, but I DIDN'T want to eat afterwards, it was just disgusting. Like getting your head bashed in, disgusting. Even though the blood was fake.
Not much character development, I really didn't even remember many of their names the whole time. I didn't like that, I wanted to at least remember their names for Christ's sake. 
Oh and also, you need to bring a bunch of friends to see this movie. If you see this by yourself, you'll feel cheated, but if you make it a whole movie thing with your friends that you know you'll have fun with, you'll enjoy it so much more.
And so, that's what I thought about You're Next.