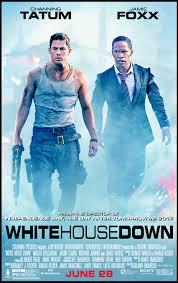 White House Down (2013)
Starring: Channing Tatum, Jamie Foxx, Joey King and Maggie Gyllenhaal
Summary:
While on a tour of the White House with his young daughter, a Capitol policeman springs into action to save his child and protect the president from a heavily armed group of paramilitary invaders.
My Thoughts: WOW. White House Down wasn't what I thought it was going to be. In a good way. I thought it was going to be a good, action movie. A hardcore action movie, but it wasn't just that. It was funny, more developed and I really got into it. I was wooping and screaming and I just really got into it, as I said. It was surprising to me.
One reason I really saw it was Channing Tatum. Another Jamie Foxx. They're really good actors and I really like seeing them in what they do, but together, they were AMAZING. They were like two friends and they were very cool working together. With this action movie, there is, of course, explosions and missiles and shit going up in flames, but I really didn't like it as much, I really enjoyed the parts where people were talking, interacting and the fighting scenes. Oh, the fighting scenes.
This movie has given me a new love for Channing Tatum, especially with him playing a father. I didn't think I could SEE him playing a father well. But, yes, that's about it.