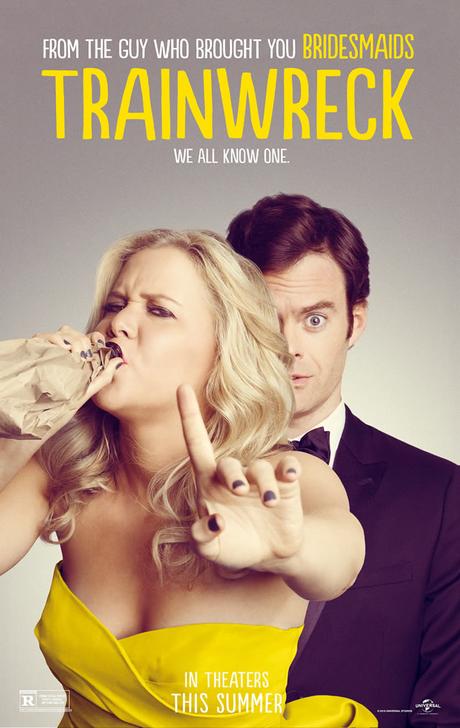 Trainwreck (2015)
Starring:
Amy Schumer, Bill Hader, Brie Larson, Lebron James
Release Date:
July 17, 2015
Rating:
9/10

Summary:
Years after having the idea that "monogamy isn't realistic" drilled into her head, Amy has grown up without having any kind of real relationship, but soon a swoon-worthy, sports doctor falls into her life and she realizes maybe, just maybe, this could work out.
My Thoughts:
I don't understand when Judd Apatow found me and starting filming my life, but this movie is my life story, just with less of my relationship ideal stemming from my obvious Daddy issues. Anyways, Apatow and Schumer are a force to be reckoned with because Trainwreck is a full-on comedic experience, even though there are times when you forget that Schumer isn't the director, producer, and everything else about this movie. Just the writer and star because there's a little bit of her sparkle in just about everything, but as the movie drifts a bit over 2 hours, you remember Judd Apatow's longer-than-necessary film style because in all honesty, this movie DID NOT have to be that long.(Knocked Up, This is 40, Funny People)
Aside from Amy's overall greatness, the minor characters like Lebron James, who is hilarious as playing himself, Tilda Swanson as her overbearing boss and even John Cena as Stephen, her obviously homosexual friend with benefits made the movie great. It's not just Amy who made the movie what it was, but all those characters and they're one-liners who chugged this train along with Amy as the conductor. 
This Trainwreck was far from being one, but there were a lot of bumps along the way. A lot of the issues I had were the longevity of the film, the kind of sloppy direction and the romantic comedy cliches. Judd Apatow is to blame for the longness of the film, but that's typical Apatow, while the sloppy direction isn't typically him. The jokes, the scenes, the problems going on in Amy's life were a bit all over the place which made for a great movie, but you couldn't help but feel annoyed when things didn't take their final course. And then the cliches, there were a lot of cliches from the crazy dad and "perfect sister" and then the finale in which the girl or guy puts on a big show to win them back. (However, this one was entertaining, I must admit that.)

There's romantic comedies that leave you reflecting your life and there are romantic comedies that leave you chuckling a bit and as you finish watching you put them off as silly. Trainwreck is silly, but its fresh, though provoking and funny as hell. No movie is without its issues, but this one is one where the good overlooks the bad.