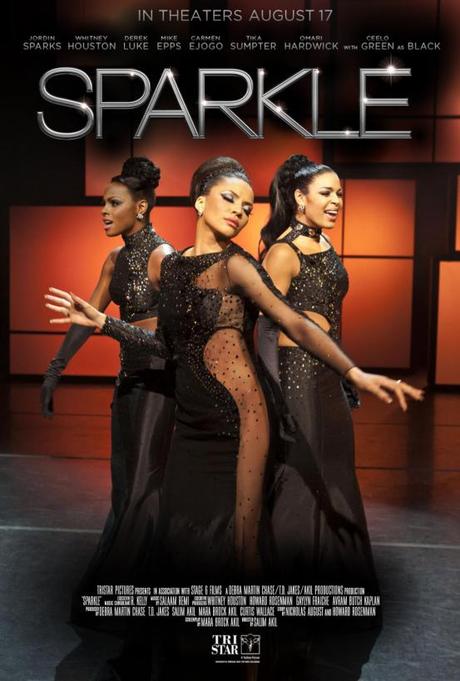 Title: Sparkle
Directed by: Salim Akil
Distributed by: Tristar Pictures
Release Date: August 17, 2012
Rated: PG-13

Synopsis: Set in the 1960s, three sisters form girl group and soon become Motown sensations, but fame becomes a challenge as the close-knit family begins to fall apart. (Via IMDB)
Shaunta: You might as well know this now: there are two types of movies that I'm a serious sucker for. One is a movie with a sports theme. The other is a movie about singing and/or dancing. (Want to guess which of us will be enthusiastically reviewing Step Up 4?) So, I went into the theater to see Sparkle expecting to at the very least be entertained. A day or two before, Brian had told me that he'd seen some negative reviews, so I wasn't holding my breath. But there was no way I was missing Whitney's last movie.
What a pleasant surprise then, when I absolutely loved the film. It's a little old-fashioned (set in the 1960s, and a remake of a 1976 movie of the same name.) It's a little formulaic (talented singer sells herself short, until she doesn't.) But–it made me so happy just the same. In the same way that Dirty  Dancing or Grease or the 1980s-version of Footloose still can after all these years. The music was outrageously good. The actors were stellar. And over all, this movie was everything I want when I pay my $9.50. It kept me interested and invested all the way through, it entertained me, and I left the theater happy.
Jordin Sparks was perfectly cast as the goodie-goodie Sparkle. She's gorgeous and young and her smile lights up the big screen. She's grown up a lot since American Idol, and she shines. At the very end of the movie she performs two songs, and when the credits started to roll, about half of the people in my theater stood up and applauded. The movie screen. The first time I've ever witnessed a spontaneous standing ovation at a movie theater.
Carmen Egojo stole the show though. She's gorgeous, she had a dark streak in this film that saved it from being too sugary sweet, and she can sing. She seems effortless in this movie. One of the best things about the film for me was how much she reminded me of a young Whitney Houston–on the same sad road that Whitney was one when she was young. Married badly, not taking good enough care of herself. Carmen Egojo is one to watch. Also, so has a very cool name.
Speaking of Whitney. She was perfect in this movie. She only sang one song, and it broke my heart to hear how rough her voice was. But it fit the story. She played a woman who was a professional singer, and then fell into drinking and drugs. By the time of the movie, she's recovered, and she wants to do anything to keep her daughters from following in her footsteps.The Bodyguard is one of my favorite movies, and it was Whitney in all her vocal glory. In Sparkle, her voice is rougher and hoarser. But her spirit shines through. It's still The Voice, just The Voice after a long time of hard living. And it fit.
I couldn't find a movie clip, but here is a recording of Whitney's beautiful swan song.
Sparkle is a sweet good-bye to Whitney, and a ushering in of both Jordin Sparks and Carmen Egojo, as far as I'm concerned. The film was beautiful to watch, with spectacular costumes and a deeply-rooted Motown setting. Go ahead and see it in the theater. I don't think you'll be disappointed. Maybe you'll even feel moved to give it a standing O.