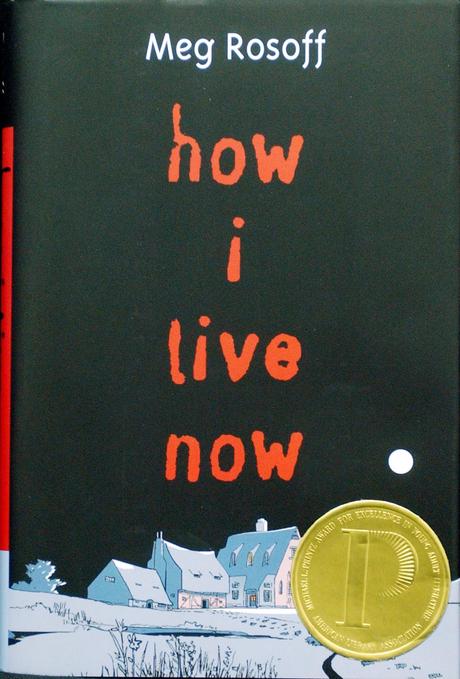 Synopsis: Fifteen-year-old Daisy is sent from Manhattan to England to visit her aunt and cousins she's never met: three boys near her age, and their little sister. Her aunt goes away on business soon after Daisy arrives. The next day bombs go off as London is attacked and occupied by an unnamed enemy.
As power fails, and systems fail, the farm becomes more isolated. Despite the war, it's a kind of Eden, with no adults in charge and no rules, a place where Daisy's uncanny bond with her cousins grows into something rare and extraordinary. But the war is everywhere, and Daisy and her cousins must lead each other into a world that is unknown in the scariest, most elemental way. (Via Amazon)
Brian: One of the main reasons this blog started was to read and review the Michael L. Printz books. It all started with Looking for Alaska in the spring of 2012, and Shaunta and I went on either separately or together to read Fat Kid Rules the World, Aristotle and Dante Discover the Secrets of the Universe, Monster, and Where Things Come Back. These books have provided some of the most enjoyment reading I've had in the last two years, and yet I realized that in the last few months I hadn't picked up a Printz book in awhile. For our November book of the month, I chose Meg Rosoff's How I Live Now, which not only won the award in 2004, but also inspired the new film, starring Saoirse Ronan, and directed by Kevin MacDonald. Ultimately it was a great choice, because Rosoff's novel reminded me why I fell in love with this Printz project in the first place.
Shaunta: I really enjoyed How I Live Now. Rosoff did a fantastic job of developing a character, Daisy, by using her first world problems (her father sends her to the English country side so he can start a new family in peace, she deals with his new marriage by developing anorexia, etc.) and then showing how she changes as her circumstances become decidedly not first world as the story goes on. The relationship between Daisy and Edmond–15 and 14 year old first cousins who fall in love and experiment with sex–takes on an almost Lord of the Flies meets Blue Lagoon quality that's enchanting at the same time that it's slightly disturbing.
Brian: The book is a quick read. At 190 fast moving pages, it just zips along, and I was able to finish it in two sittings. Rosoff's writing style is super easy to follow, with simple prose that give the reader clear insight into the unthinkable horrors she discovers along her journey. Dystopian young adult novels can sometimes feel forced and unrealistic, but the world in How I Live Now is utterly believable from the first page on. I loved all in the characters in the family Daisy goes to live with; they all have their different quirks and qualities but never feel like types. I loved that Rosoff is willing to take the reader to very dark places and not feel like she has to sugarcoat anything. How I Live Now is one of the best YA reads I've had all year, and I'm grateful I finally got around to reading it!
Shaunta: I'm glad I read it to. I loved it so much, that when I watched the movie based on the book I was a little disappointed. Edmond is described in the beginning as about half a mile shorter than Daisy and slightly younger than her. He's skinny and introverted and never described as a typical romantic hero. The actor who played him in the movie on the other hand is tall and muscular and gorgeous. The reason for it was obvious when an actor playing Isaac, who is Edmond's twin in the book and plays 14 in the movie–meets Daisy at the airport. Ronan is too old to put her in a romantic relationship with an actual 14-year-old. Other parts of the movie were spot on. Daisy's anorexia was transformed into what looked like OCD–and it worked. Piper was the little sweetheart that she was in the book. The third brother was transformed into a neighbor kid who could have just not been there at all in the beginning, and then was combined with another character in the middle. Most movies based on books fall a little short of the magic of the book–so I can't fault this one for doing the same thing. It was good. Worth seeing, but don't skip the book.
Brian: It was a treat upon finishing the book that I was able to check out the brand spanking new movie, still in theaters but available on demand. When I found out it was directed by Kevin MacDonald, I got really excited. I got to watch an early screening of his brilliant docudrama Touching the Void back in 2004, and I have followed his career closely ever since. I knew he would bring a sharp eye to this material, and he's brilliant here both in capturing believable performances from all his young actors and showing restraint when other directors could have thrown too much visually at the viewer. Ronan is always good (the 2011 drama Hanna is a must-watch!), and here she gives one of her best performances as someone we don't immediately connect with at first, but who develops and transforms over the course of the narrative. A few of the scenes took my breath away in their intensity—the reveal of a character in a body bag is too sad for words—while the end of the movie is perfectly calculated in both its utter despair and promise of hope. I was very impressed by the book and the movie How I Live Now, and hope that you all give them a shot!
Shaunta: I actually did connect with Ronan as Daisy right from the start. She played a pissed off, privileged teenager pretty spectacularly.  The transformation from a girl filled with first world anxieties, to a girl actually living through and surviving war-torn, third-world realities, was the best part of the movie for me. Some of my favorite parts of the book–like Piper and her dog winning over the soldiers when she and Daisy are taken away from the family farm–are missing from the movie. Again–the movie was good, but the book was great. Don't miss it!