Last weekend I had a chance to go and see Safe Haven which was inspired by the Nicholas Sparks novel with the same name. 
I have to say, I'm pretty obsessed with Nicholas Sparks movies. Four movies inspired by his books are ranked in my top ten favorite movie list: The Last Song, A Walk To Remember, The Notebook, and The Lucky One. 
With this one, I was expecting something very similar to those. Surprisingly, this one brought something a little different to the table!
The main character is Katie, who ran away from her home after her abusive husband took it a little too far. After changing her appearance and taking a bus to a new town, Katie tries to start up a new life. There she meets Alex, a single-father with two kids: Lexie and Josh. She's trying not to get too close to the family, in case she has to move away, but she finds herself drawn to them. Of course, since it's a Nicholas Sparks novel, Alex and Katie fall in love.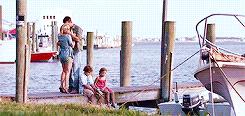 The way this romance works is quite different. Katie has troubles accepting Alex's love because she doesn't want to be hurt again. Alex is scared as well, because his wife passed away a few years ago. They obviously find a way to work and okay, let's face it, they're perfect.
There's SO much chemistry between Josh Duhamel and Julianne Hough. It's undeniable! The way these two actors move with one another is simply great. Their smiles seem genuine, the words they speak don't feel posed at all... It's just fantastic. I have no read the novel, but I have a feeling this is a perfect casting regardless.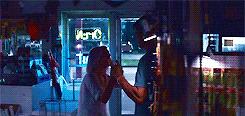 This movie of his probably has the most intensity and plot twists. There's actually quite a few action scenes, which makes it appeal to more people. And the ending, oh my gosh. If you've watched this movie or read the book then you should know what I'm talking about. There's just so much going on! I have to say that I feel pretty smart: I pretty much predicted the end of the movie. That doesn't mean this movie was predictable; it had many clues that if you were observant to catch then it would help you determine the ending of the movie.
I wish there would have been a little more to the ending. I feel like it did cut off a little bit, which could have been solved with maybe one more scene. My other complaint is the lack of minor characters. There were probably like less than ten characters in this movie...? I feel like maybe there should have been more. And truthfully, only like four of them were well-developed.
If you like a good romance movie with a bit of action and suspense, then I'd definitely recommend this. It's not as sappy as the other Nicholas Sparks movies, but I did tear up just a little bit.