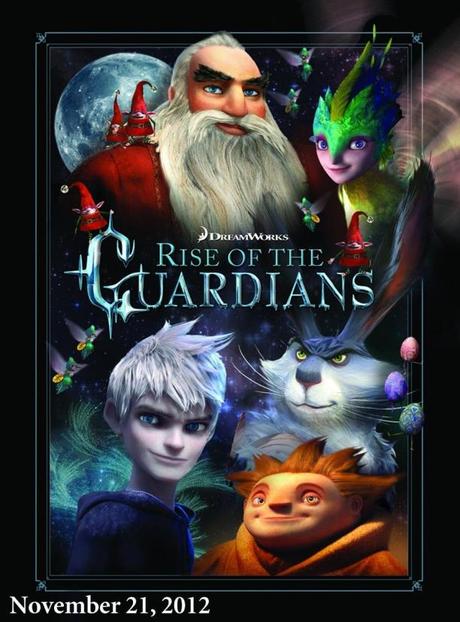 Title: Rise of the Guardians
Directed by: Peter Ramsey
Distributed by: DreamWorks Animation
Release Date: November 21, 2012
Rated: PG
Synopsis: When the evil spirit Pitch launches an assault on Earth, the Immortal Guardians team up to protect the innocence of children all around the world. (Via IMDB)
Shaunta's Review: A movie featuring Santa Claus, the Easter Bunny, and the Tooth Fairy could have so easily devolved into something silly and sappy that might appeal to a very young child, but not to anyone older than four or five years old. I was so pleased to find that Rise of the Guardians didn't go there. It managed to be edgy enough to appeal to me and my twenty-year-old daughter, while completely engaging my seven-year-old daughter as well. It had some surprises (like sleepy, sweet Sandy the Sandman ending up being the most kick ass of all the characters), and some scenes that were probably too scary for any kids much younger than my Ruby (like the scenes with the nightmare horses.) Over all, I thoroughly enjoyed this film and so did both of my daughters.
I think what I liked most was how much I ended up caring about the main character, Jack Frost (voiced by Chris Pine.) Again, it would have been easy to make him too cute and too sweet, but that didn't happen. Rise of the Guardians also had a scary, well-rounded villain. Jude Law voiced Pitch, the Boogeyman, who hatches a plan to turn Sandy's dreams into nightmares because he's upset that no one believes in him (because after the Dark Ages, people started buying into the idea that there is no such thing as the Boogeyman.) Rather than just being a big bad baddy, Pitch is just sympathetic enough.
The idea behind the film, which is based on a series of books by William Joyce (The Guardians of Childhood series), is that Santa (a tattooed Russian), the Easter Bunny (a big Australian hare), the tooth fairy (half human, half hummingbird), and the Sandman (a sparkly, sleepy little guy, that has some bite to him when push comes to shove) were chosen by the Man in the Moon to guard Earth's children. They have power, as long as children believe in him. When
Pitch brings fear, via nightmares, children stop believing and Jack Frost is brought into the Guardian fold.
William Joyce is the author of the book that the Disney Film Meet the Robinsons was based on. He was also involved in Toy Story and Mr. Magorium's Magic Emporium. The blend of sweet and edgy that takes a film from 'for kids' to 'for everyone' made those movies great, and it makes Rise of the Guardian amazing as well. It isn't perfect. The story is a little predictable, and the only female main character spent a lot of time swooning over Jack Frost. But for the most part, this movie was a lot of fun and well worth seeing at the theater if you get the chance.