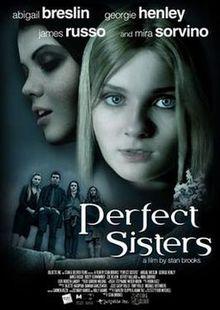 Kids now-a-days are just insane.
Elizabeth and Sandra, (Abigail Breslin, Georgie Henley) have just moved for the umpteenth time and are now finally content with their new home.  Their mother (Mira Sorvino) is newly sober and now armed with new looks, they're ready to make the best of their lives. Soon their mother falls back into her old ways and the two sisters have had enough. Soon, in order to get the lives they've always wanted they come up with a plan to kill their mother. 
I must say that this movie surprised me greatly.Watching the trailer for the film, I was interested about seeing this movie, somewhat excited even.Then I saw the movie and let's just say there was another surprise. D
uring the first half of the movie, I was unexpectedly unimpressed with just about everything. The acting, the plot. Everything was mediocre and even a bit amateur in my opinion. Nothing stood out in the film to make it better than a Lifetime flick. What lessened my impression of the film was the fact it was based off of an actual event that happened in Canada when two girls, in fact, tried to kill their mother. It felt as if it was just pulled off the pages of a newspaper, rather than scripted correctly.
It felt more of like a dramatized news story in the eyes of the perpetrators rather than a film. 
It works somewhat, b
ut not to the extent where it would make this a good movie. An aspect that helps the movie is the way the characters develop. There isn't much development, but there's a psychological change in Breslin and Henley's characters. They go from two normal teenagers to 
calculated, emotional-roller-coaster, murderers and it isn't all of a sudden, which is great. You can notice the tiny quirks about the two that have changed and in my opinion, that's okay acting on their parts. 
Perfect Sisters is very much far from perfect, but it's somewhat enjoyable if you like Lifetime movies like little ole me.