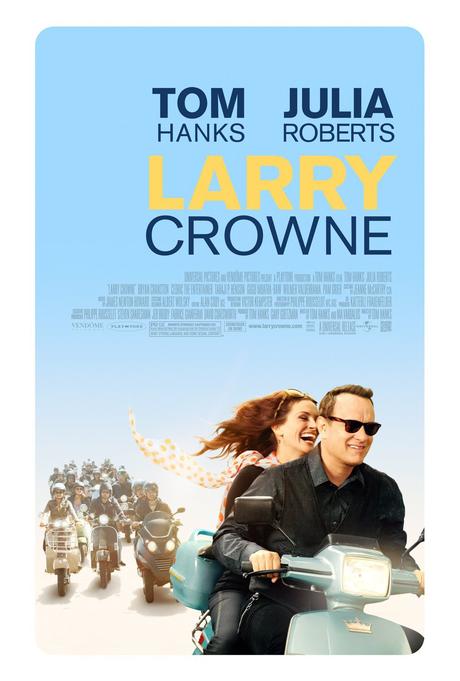 Larry Crowne (2011)
 *Streaming on Netflix as of June 23, 2016*
Starring:
Tom Hanks, Julia Roberts, Wilmer Valderrama, Gug Mbatha-Raw, Rami Malek
Directed By:
Tom Hanks
Written By:
Tom Hanks, Nia Vardalos
Release Date:
July 1, 2011
Rating: 3/5
Summary:

A middle aged veteran loses his job and decides to reinvent himself by going back to college and along with the help of some friends along the way, he finds his old self.
My Thoughts:

Lots of people think this is bad movie because it doesn't add to the film world. Lots of people think this movie is bad because it has no point and didn't have to be made and that's partially true. This movie didn't have to be made, and no, it doesn't add anything to its genre or the film world in general, but that's not the point of this kind of film. I dub this movie a "feel-good-film". A feel-good-film's main purpose is to entertain, but whilst it entertains, it gives the viewer a sense of nostalgia, a feeling of meaning and that the simple things in life do actually matter. These types of films aren't about heavy topics and even if they are, they're done so in a way that doesn't feel heavy, but relatable in the way that the characters react that feels as if it's happening to us, as if we're watching our lives on the screen in the bodies or wealthier, better looking people. Films like this, The Vow, No Strings Attached, Love and Other Drugs and just about every light-hearted romantic comedy out there is a film-good-film and those sorts of films matter to people who want to fill their time with a film that isn't going to change their lives or even be of any cinematic merit. They don't matter to the critics or anyone looking for somthing major out of the film because that's not their point. They are supposed to make you...feel good. They make you feel good about life, enjoying the small things like going back to school, finding love or making new friends even with things like coming back from war or divorce haunting you along the way, but they never focus primary on the bad things. These films are about prosperity through the bad times and making something out of nothing, which is something most people can relate to, but no one wants to see that. No one wants to watch real life events like that, or it'd be a documentary, so there's always the magic of plot and character development the separate us from the events going on the screen, but what's going on is pretty much what we're going through, just less artsy and innovative and more simplistic.
And Larry Crowne is a feel-good-film about nostalgia. It's a film about being stuck in that nostalgic moment when everything was going right and moving forward when things fall apart. The film stars Tom Hanks, as Larry Crowne, an aged veteran who is currently divorced and fired from his job. The prime of his life was his wife and being in the war, but now those things are over, so now what? He decides to go back to school and in that he meets some colorful characters who help him find the person he was before. As I've stated before, a feel-good-film is about human feelings. They prey on our feelings and hit things we've felt at least once in our lives and make us reminisce on those times in order to connect with the characters and the film in general. We've all felt lost at one point in our lives, just like Larry. We've all been at a point in our lives where things weren't going well and we didn't know how to handle them, but instead of focusing on that downward spiral, the film focuses on how Larry decides to rebuilt himself and that's the kind of protagonist you'll have in a feel-good-film: a fighter, a lovable charmer, a person we root for and thanks to the lovable-ness that is Tom Hanks, we do just that. We root for just about everyone in the movie with the exception of Julia Roberts' porn addicted, blogger husband because, I mean, we always have to have someone to hate. But besides that, there's not really much to the film. The story is interesting, but not sharp enough to be considered anything more than a feel-good-film, but because of an exceptional cast including some wonderful surprises like Taraji P. Henson, Wilmer Valderrama and Cedric the Entertainer, we have a film here that is one that won't leave a mark on you, but will have you feeling good once you're done with it.