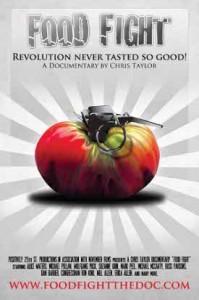 I watched yet another documentary about food recently.  This one was titled Food Fight and was a bit more up to date since it was released in 2012.  As with many food documentaries it discusses the same topics: our failing food system, industrialized food problems, our obsession with processed food, etc. It was hard to decipher what this movie was trying to focus on or how it was different from the others.  Not that it wasn't good or informative, but after you have watched a few current food documentaries they all seem to be the same.
This movie talked about how the Farm Bill really forces our food system into its current mold.  The Farm Bill rewards overproduction of commodities such as corn and soy.  When we have a surplus of these crops we have to use it some way. Enter processed foods.  While it may seem we have a variety of choices in supermarkets, most foods are just corn with different flavors and forms. This really started with Earl Butz in the 1970s when President Nixon named him Secretary of Agriculture. Butz's policy was to encourage farmers to produce as much cheap food as possible, meaning more corn and soy.
The really interesting part of the movie was pointing out that the Department of Agriculture considers fruits and vegetables speciality crops.  Farmers of vegetables and fruits are not given subsidies, which makes it harder for those farmers to produce food.  This is very different than for corn, wheat, and soy farmers.  The movie also pointed out that while food costs (percent of income spent on food) have gone down since food industrialization, health costs have gone up.  This shows that processed food is not good for our health.  Maybe instead we should be eating healthy fresh foods and spending less money at the doctor's office.
While this movie was a bit scattered, overall it had interesting points about our food system.  This movie is also available free on Hulu if it interests you to see it.