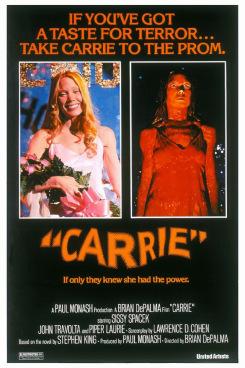 Carrie (1976)
Starring: Sissy Spacek, John Travolta and Piper Laurie
Summary: 
A young, abused and timid 17-year-old girl discovers she has telekinesis, and gets pushed to the limit on the night of her school's prom by a humiliating prank.
Rating: 7.5/10: Sit at home and watch on Netflix
My Thoughts: I've never been to prom and I don't plan on it involving pig's blood.
So, I am going to see the new Carrie sometime this week and you know, before you see the remake, YOU'VE GOT to see the original.
And read the book, so I shall post something on that soon.
And so, I really enjoyed this flick. It was a quiet night, sitting at home and so I decided to watch Carrie. It was fun, a little slow, but fun. The slowness of it, however, is just to build character and story, its not a legit scary movie, I don't know how to describe Carrie, but scary is not one of the ways I would describe it. But Carrie is memorable, in my opinion.

Between the tampon throwing and the final blood throwing scene, its just you seeing how a typical high school is. The horrible fact that, you know, bullying is wrong and it has real consequences. I mean, you don't have a telekinesis-having chick throw a car on top of you, but you could get into real trouble for bullying someone. It's a sick portrayal of high school students.

The main thing you'd want to see Carrie for is the acting, the acting in this movie is perfect. Sissy Spacek as Carrie is just wonderful. You can see her transform from being shy and creepy to that beautiful girl at the prom to that frightening, psycho who kills just about everyone at her school. She got into the role and you can see the emotion that she puts into being Carrie. Her mother, however, being a complete nut job, could have done better.

Another main reason I would like to go see the remake is Julianne Moore's portrayal of her mother. 

However, this movie is old, so if you don't like older movies, I don't recommend this for you, but based on the time it was made in, this movie is truly a classic. Comparing it to now with all the fancy-schmancey effects we have, its not as good, but just think...

This movie was made in 1976.

Yeah, just think about it..

So, I will leave you with that.