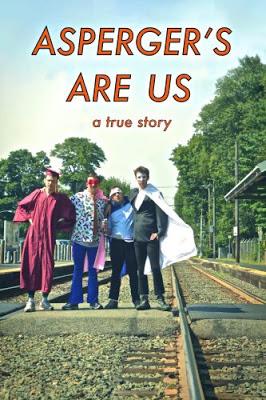 Asperger's Are Us (2016)
Running Time: 82 minutes
Directed by Alex Lehman
Starring: Noah Britton, Ethan Finlan, Jack Hanke, New Michael Ingemi
Asperger's Are Us is an independent documentary about the "last show" of a comedy troupe comprised of four individuals with Asperger's syndrome. 
When the documentary starts, the group have already been performing together for a few years and as they've all reached College age and are about to go their separate ways, they decide to put on one final show.
It's quite a well put-together documentary which at times feels so "mocumentary" that it's a little like "the office". It features interviews with the boys themselves as well as with their parents. 
While the popular consensus is that comedy doesn't come easy to people with Asperger's Syndrome, I'm of the opinion that Asperger's humor doesn't come easy to neurotypical people. There's a lot of very funny bits in both the documentary and the show but not all of the humor will be accessible to all of the people.
It's also very interesting to watch the boys trying to put together a show with so little planning and there are lots of moments when you can tell that one or more of the group are being stressed by environmental factors or by each other. It's great to see how accepting they are of each other's differences and issues. The kind of support that they give each other is quite different from the kind of support that neurotypical people give - and it's far more appropriate.
If you're the parent of a younger child on the autism spectrum, you may be fascinated to see how the traits of your younger child may transfer to adulthood.
There's a surprisingly large amount of heart in this movie.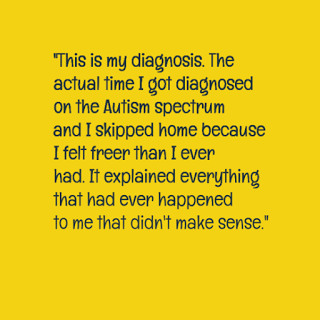 There's also a lot of very good information here about diagnosis, life and love. There are some incredibly quotable dialog gems too.
There's also some amazing struggles with identity and some beautiful statements about parents, about the lengths that they will go to and the way in which their children with Asperger's show their love;
"Every Aspie parent seems to fear their kid hates them or their kid is unhappy, and it's 'cause their kid isn't communicating very much with them. That's part of the autism is you're self-centered, so you really want to stay within you and not get out and interact with the world, which includes your parents, unfortunately."
I found the story of New Michael and his father to be very touching indeed.
This is a film that I'd highly recommend.
You can view the trailer on Youtube.

I've looked for the film on Amazon and Google Play and in our local stores but I can't seem to find it. The whole film however, is available on YouTube and there's really no excuse not to watch it.