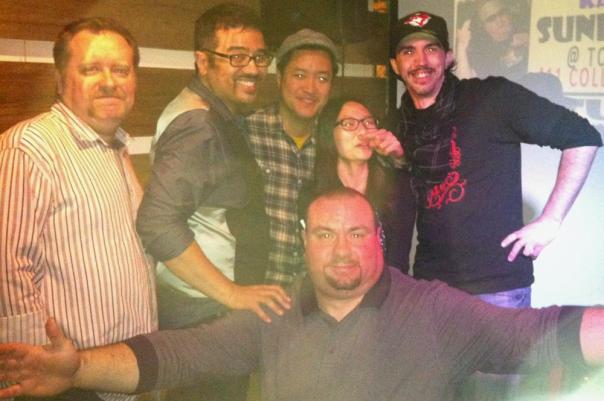 It's the last day of Movember 2012 and it's been a hell of a trip. My face has sprouted a moustache that I'm not super ashamed of. AND as a team, The Moustache Farmers Of Canada raised a bunch of monies!
In fact, without counting the donations from #MoChaKaTO last night, the team has raised $1024.
And last night at Lou Dawgs we raised $1680 – a new record. $180 more than our goal for the evening and $564 more than we raised in 2011. I'm super happy about these results. You should be too!
There were a ton of tweets flying through the internets during the night and a lot of pics that show people singing and dancing and having a great time.
Check out the tweets and pics and such here! #MoChaKaTO on the Twitters…
I'd also like to thank my awesome friends and family who donated to my personal Movember campaign:
Edna Mulchwegger
Kevin Armstrong
Linda Chan
Amanda Farough
Carly Wade
Trish Cassling
Laura Saba
Scott Armstrong
I know some awesome people.
Tonight I look forward to seeing more awesome MoBros and MoSistas at the MoGala in Toronto. It's always been a good party in the past and I expect nothing less tonight.
And then… after the party… it's not a hotel party – it's a date with my friggin' razor! Because as much as I've grown accustom to seeing this thing on my face every day… I want it gone! I want my beard back. And because of my planning (this isn't my first rodeo) and stubble, the beard will be back before you know it!
It's been good month mes amis. I thank each and every one of you for being part of it with me.
If you want to donate before this Movember season ends you can do so… right now… right here… at my MoSpace… thank you!