I love Movember. If you've been reading this blog for any length of time, or if you've known me for more than the last 4 months, you know this already.
But what I really, really love is being able to be proud of the guys and girls that I work with every year to grow staches, raise money and increase awareness for men's health initiatives.
I am also proud of the Mo Bros and Mo Sistas that aren't on my team. This isn't about who raises the most money, it's about all of us working together to raise a ton of money for a great cause. I am proud of each and every person who participates, spreads the word, donates and cares about Movember.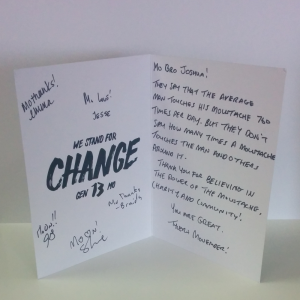 And it's easy to be proud when you see the numbers that are in the infographic below these words. Movember sent out an email today to look back on Movember 2013 and how we did as 1 global team of fundraisers. The numbers are amazing. It's proof positive that the work we are all committed to doing is paying off in the right way. It makes me incredibly happy.
I would also like to take a second to shout out the Toronto Movember team who helped us with exposure and freebies for #MoChaKaTO last November. And they didn't stop there. Recently I wrote a blog post at work about the great branding work that Movember is doing year round.
Also, they sent me an awesome thank you card that had signatures from the entire office and a sweet message. Thanks to them. They are awesome.
So, take a minute to check out the truly amazing statistics that are in the infographic and click RIGHT HERE to see what's going on with Movember right now.