Life has been a bit crazy lately.  Last week, I sang with Washburn University Choir and Topeka Symphony as a soloist in Haydn's Lord Nelson Mass.  It went very well, but the most disturbing event was that my tuxedo pants came unhemmed at some point.  Thankfully, I don't believe I looked too much like Charlie Chaplin with my slightly too long tux pants.  By the way, this isn't the first time that I've had a fashion emergency.  In the first voice competition that I have ever won, I was without my glasses or contacts and wore two right foot shoes (I had a friend hastily buy shoes for me from a tux shop hours before a concert on a day that I was busy, and sure enough, he bought two right foot shoes).  I also had an unzipped zipper moment in 2010 during my Master's conducting recital and in 1999 when I played a crow in The Wizard of Oz, wearing full body tights in a dress rehearsal, I didn't understand that when you wear tights, they stretch and people could see my tighty whities underneath my featherless legs - it could have been worse; at least I wore underwear.  Nevertheless, I had a great time in Topeka with a wonderful conductor and I enjoyed learning about the careers of the Washburn Professors whom I shared the stage with.  Oh, and the choir sounded veraciously exciting!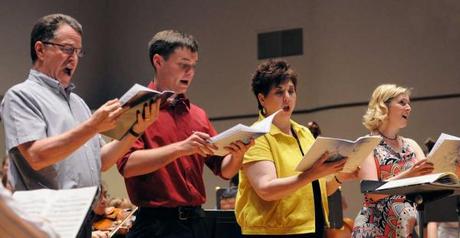 Guess what vowels we are singing...I hope we aren't all singing the same word! My wife pointed out the by making an "oo" sound with these mouth shapes it sounds like a seal's mating call.  Photo courtesy of the Topeka Capital Journal
Of course I made my rounds with the Spring Commencement exercises this weekend singing the National Anthem.  It went very well of course, but my excitement at the moment is with the Kansas City Symphony.
Today, I had a very long dress rehearsal with the Symphony who is performing several sold-out concerts for their Education Series.  It is an amazing event, where the students, who have been learning about music all year in a curriculum funded by Carnegie Hall and the KC Symphony, have come to join the Symphony to learn and participate in a concert in the world renown Helzberg Hall.
I showed up early, and while I was sitting in the performers entrance in the "cleavage" of the two theaters at the Kauffman Center, in walked a group of folks with ACDA (American Choral Directors Association).  They were touring the center as they were selecting a venue to host their National Conference, which is pretty much the Super Bowl of choral music.  Of course, I was really excited when I overheard their conversation, so I jumped in - rudely - but hey, I really think that Helzberg is the greatest venue for choral or symphonic music; greater than any other place that I've experienced on earth.
Well, the ACDA folks (Dr. Tim Sharp among others) picked a great day to visit.  They first heard Aretha Franklin do her bit and they somehow got through the army of secure fences and border police.  Literally, the workers cleared out the entire area and put up a restraining fence to keep anyone in the building from bothering or listening to Her Highness practice.  I love Aretha, but it would have been fun if they were a little more lax on the secret service side of things; she even had guys dressed in black suits with glasses and ear pieces and all!  There were very few people in the place, so it seemed like they went a little overboard with the security - and unfortunately, I was unable to meet the Queen herself, but maybe I'll get another opportunity.  
The Symphony played portions of Beethoven 5, Le nozze di Figaro Overture, and I sang with the Symphony as well...however, some of the songs, are a little less than classical in nature.  I sang a catchy Brazilian dance song in Portuguese (no, I have never studied Portuguese, but I had some coaching) and other pop tunes created for the event and even moments from Carmen, with my friend Chris Carr as the awesome toreador Escamillo, and for all the music nerds out there, we are even performing an Arvo Pärt piece for the elementary kids - how crazy is that!?  I'll let you know if it effective or not, but I think it will be shockingly cool.
In the end, I am really excited for our concerts with the kids - they get to "accompany" with their recorders on one song...literally, 1200 kids playing recorders to Blue Danube - who can't smile (or laugh) thinking about that!
Also, I got an awesome private dressing room!  I even enjoyed a catered meal in my room - it was a sandwich lunch of turkey on rye with wine-soaked onions, spinach, and a raspberry cream dressing with Swiss cheese, a salad of mushrooms (which I loved!), and a pear!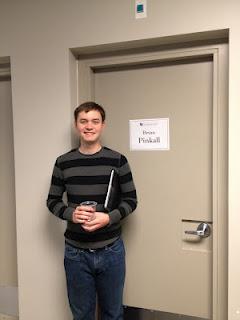 Lastly, I must mention the passing of Maurice Sendak.  He had an impact in the world of opera in a rather interesting way, by making the opera Brundibar into a picture book in 2003.  I will make a special post about it later this week, but the opera was written at the concentration camp that I visited three years ago in Terezin, Czech Republic - I think it is a very important story to tell.  If you do not know about it, here is a short wikipedia article 
http://en.wikipedia.org/wiki/Brundib%C3%A1r