There is a saying that faith can move mountains. For faith, read belief and fortitude.
Yesterday Karl Oyston was finally stood down as chairman of Blackpool FC after a few notorious years. Such a move may be mere trickery on behalf of the House of Oyston or it may be a genuine sign that the Oyston massif is on the slide. Blackpool fans certainly hope the latter is the case. We shall know more in the next couple of weeks, which promise to be eventful.
One of the most amazing locations I have ever had the good fortune to visit is Marrakesh. I've commented before on how much I like the contrast between sand and sea and the evocative borderline between the two. In Morocco I felt a third element had been added. To have snow, sand and sea in such close proximity was something quite special and the old city of Marrakesh was pivotal, lying as it does on a sandy plain between the snow-capped Atlas mountains and the shimmering coast.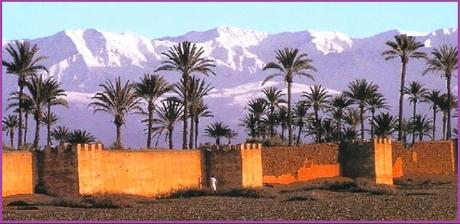 Marrakesh with the Atlas mountains as back-drop
Heat and cool, arid and green, flat and towering, sandy and snowy, not to mention the changing qualities of light - Marrakesh offers breath-taking contrasts on every side; a magical and inspiring location of which the mountains are a key element, both in terms of scenery and climatic impact; a truly lovely place. If you've ever visited, you'll know what I'm on about. If you haven't, it's a treat in store should you ever decide to go Morocco bound.
Today's short poem is in tribute to the High Atlas, a mountain range named after that titanic giant of Greek mythology...
Hi Atlas!
Keep it up, old chap.
It's a prodigious feat,
your shouldering of the sky
that wheels
from rose to blue
to blushing tangerine
then starry black and back
diurnally.
That it might
never fall in upon us
mere mortals here below
because of your titanic efforts
to keep this stunning diorama
in its appointed place,
we offer grateful thanks
eternally.
I wanted to link to some music again this week and was in two minds as to which to choose: Graham Nash's Marrakesh Express or Paul Kantner's excellent Mountain Song. In the end, because it's my birthday, you get links to both.
Crosby, Stills & Nash:
Marrakesh Express
Paul Kantner:
The Mountain Song
Enjoy and thanks for reading, S ;-)
Email This
BlogThis!
Share to Twitter
Share to Facebook
Reactions: