Motta Shiva Ketta Shiva movie review: Kuuti kalichu paru kanaku sariya varum, idhu annan mozhi. Yevlodhan kutinalum kanakulaye vara maten, idhu thambi mozhi. Yenada solar. Solra yenake puriyala unaku yepadida purium.
Plot Summary: Shiva is an IPS officer who has wounds of his past, works as a corrupted ACP. An incident changes the course of his life. What's the incident? What does he do after it were narrated in the 152 minutes complete masala package.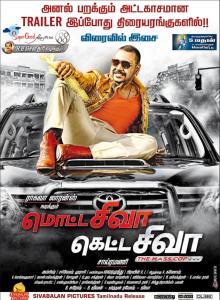 Directed by: Sai Ramani
Starring: Raghava Lawrence, Sathyaraj, Nikki Galrani
Distributed by: Sivabalan and S.Madhan
Running time: 152 minutes
Released on: 09-03-2017
Watch trailer
Goosebumps review: A complete masala entertainer with some decent performances, a worthy one time watch. Goosebumps? Nope, not in a predictable story.
Critics:

(3 / 5) Audience:

(3.5 / 5)
Motta Shiva Ketta Shiva has finally hit the screens. After postponed for four to five times the producers have finally got the green flag. This is Raghava Lawrence's first outing since Kanchana 2 in 2015.
Motta Shiva Ketta Shiva is a complete masala entertainer. The movie starts with the usual intro formalities of both the protagonist and the antagonist - Off course a small portion of introduction for the actress as well. First half moves with rather a dull screenplay until the last half an hour before the interval.
The half an hour before the interval arrests the audience with sentiment, few twists adds to the goodwill (You can hear ok the movie is good, voices). The second half is predictable since the first frame. The cat and mouse game between Lawrence and Ashutosh Rana looks good till a certain point. But, towards the end one might feel when the climax is. The climax is another 'I know this would happen'.
Predictable story is not new to masala movies, Motta Shiva is no different. Few might find the story predictable since the first few minutes into the movie (At least in the second half). Songs at regular intervals kept the audience stretching -might find the songs an enforced one (It's a masala movie after all).
Comedy portions works well at times. Though they are a bit outdated, it still works (At times). Kovai Sarala along with Sathish and Chaams have done a decent job, family audience would love it. On the whole it's a complete family entertainer (oh I missed masala) with a predictable screenplay.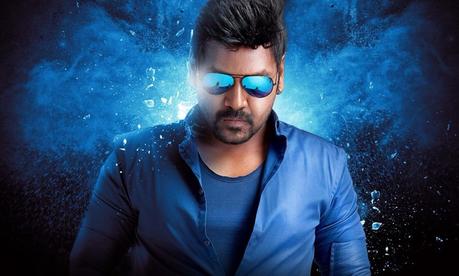 Raghava Lawrence has done an exceptional job. The story seems to be a tailor made one for him with mass dialogues and stylish stunts (illogical though) and he does it with ease. His expressions are a bit awkward at times but still enjoyable. Off course his dance is the top notch, a flexible pair of legs- extraordinary.
Sathyaraj as Kirubakaran is apt for the character. The police uniform suits him well. His expressions and acting hasn't aged at all. Ashutosh Rana as the antagonist or GP has done a decent job. Though he fails to send shivers as villain, he delivers what is needed from him for this movie.
Nikki Galrani doesn't have much to offer to the story, but she has utilized her role well. The producer should have funded more to her clothing instead of lipsticks.
Kovai Sarala, Sathish and Chaams are good along with Lawrence they impress with their comedy scenes. The party comedy was my favorite. Rai Lakshmi's dance was equally good as Lawrence in her only screen presence.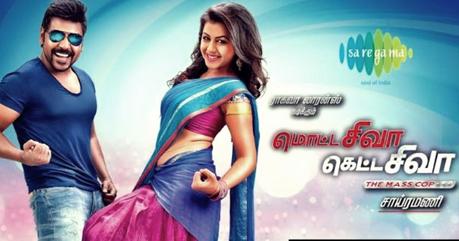 Sarvesh Murari's camera was good, especially in the action scenes. Debutant Amresh's music is good in the songs but the background is not so impressive, should have been a bit better. Stunts are ok illogical though.
Sai Ramani has taken the 2015 super hit Telugu movie Pataas and blended it for the Tamil audience. He has done a decent job. He should have trimmed the mass dialogues. It has been stretched beyond the necessity. He excels in sentiment scenes.
Motta Shiva Ketta Shiva is a masala entertainer which family audience would love- keep the kids away during songs. Pushing the logics aside the movie is a onetime watch.