0 Flares
0 Flares
×
little Indiana received the Race Pace Power Pack and Top Fuel 2.0 by Manhattan Toys in exchange for an honest review. Opinions are mine alone (as always).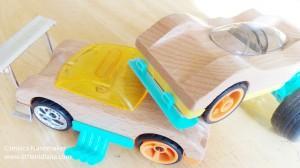 MOTORWORKS by Manhattan Toys after Kid #2 Interchanged the Parts!
Have you seen the latest update to the MOTORWORKS Line by Manhattan Toys?
It definitely takes playtime to a whole new level of fun and entertainment!
MOTORWORKS Line Update Review
The MOTORWORKS Line has stood the test of time! These weren't just thrown in the car bin and forgotten, oh no!
Sleek and wooden, these cars are a favored plaything of our two boys.
How do you keep a favorite plaything fresh and entertaining? You add in new updates! And that is exactly what Manhattan Toys new update for the MOTORWORKS Line did!
MOTORWORKS Updates: Car Accessories
What's I love about these toys has to be the chassis design. You see, unlike some toys where you keep buying different cars and new pieces to fit a specific car, MOTORWORKS by Manhattan Toy uses a common chassis!
This means that all of the parts are interchangeable! The wheels, tires, spoiler…a simple snap-fit and away they go!
The new line provides great new options for every MOTORWORKS car and truck in the fleet! What kid doesn't like new options? The newbies include: Chrome Effects 2.0,  Race Pace Power Pack (our review pick that includes two vehicles and new customizations!), EXX Atomic Rider 2.0, and Top Fuel 2.0 (another review pick that includes a front and rear spoiler, monster axle, and more).
Manhattan Toys Fun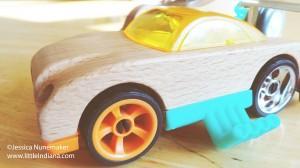 MOTORWORKS by Manhattan Toys after Kid #2 Interchanged the Parts!
Our cars have seen extensive use. They've held up wonderfully and elicit oohs and aahs wherever they go!
Anything that doesn't use batteries is a total win/win to me–and these quality toys have made them a win with our boys, too.
Small Towns: Destinations, not Drive-Thrus! I'm Jessica Nunemaker and THIS is little Indiana!
Find pictures in Indiana on my Flickr photostream or on the new little Indiana Tumblr blog.
Just don't forget to tell 'em that  little Indiana sent you!
Don't miss a moment. Subscribe to little Indiana and receive instant updates to stay on top of everything "little."
little Indiana: Where to Stay, Play, and Eat in Small Towns in Indiana. Discovering Indiana's best small towns! Now get little Indiana on your Kindle.
Targeted. Relevant. Affordable! little Indiana advertising.