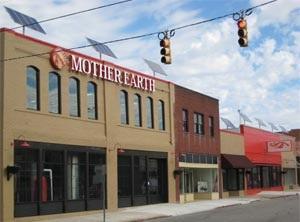 Company
Although North Carolina might not seem like a "beer destination" like  Oregon or Colorado, the craft beer industry is booming.  Asheville, NC is consistently rated one of America's best beer towns, and major craft beer industry participants such as Sierra Nevada and New Belgium have chosen the state as their east coast hub; also, other craft breweries and smaller "nano" breweries are popping up throughout the state at a rapid rate. In particular, one NC craft brewery has been making waves among beer aficionados on the east coast: Mother Earth Brewing (MEB) located in Kinston in NC's "Inner Banks."  Not only have its beers been winning awards at prestigious competitions, MEB has also been on the forefront of using organic and recycled materials throughout their brewery, becoming one of the first US breweries to earn LEED status.  Additionally, brewery management and staff have been working within the community of Kinston to revitalize sections of a city that has fallen on hard times.
MEB, like many breweries, did not set out to become one of the brewing industry leaders in eco-friendly brewing; they backed into it.  In speaking with MEB's President Trent Mooring, he equated the desire to go green as a "bug." Initially, he said that MEB wanted to use an old building in Kinston, rather than construct a new one, not only to reduce costs, but also to help modernize Kinston's deteriorating downtown.  His team's research into building materials led them to discover more environmentally friendly construction material, and from there, "it was a slippery slope," as the company tried to outdo itself in making each subsequent addition more eco-friendly than the last.  This includes using a soy-based spray foam insulation (as opposed to fiberglass), blue jean insulation (it dries in the sun, as MEB quickly found out), eco-friendly toilets and sink fixtures, carpet made from recycled material and even bamboo tap handles.  MEB also installed a 6 kw rooftop solar panels (see photo from MEB above), which provides enough energy to run the tap room each week; like most other breweries, MEB also sells its spent grain to local farms, and works with local farmers on growing hops.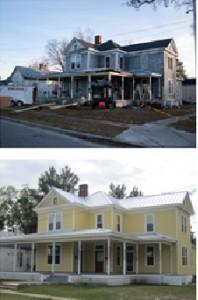 Community support for the brewery has been overwhelming, and has encouraged MEB to continue its work in the greater Kinston area.  As the brewery became more established, CEO Stephen Hill and Mooring sought other ways to revitalize the town, notably neighborhood reclamation.  From the roof of their brewery they could see a dilapidated house that was part of Kinston's "Old Neighborhood," one of the first sections of the town.  The neighborhood as a whole had fallen into disrepair, with over 70% of the houses classified as urban blight.  Hill, a member of the North Carolina Arts Council, was familiar with recent neighborhood revitalization efforts, notably Paducah, Kentucky's Artist Relocation Project, which helps reclaim old houses and offers them to artists as living and studio space.  Using Paducah as a model, Hill started
SmART Kinston
, and has renovated a number of homes
(see left for before and after photos from Mr. Hill)
, filling them with brewery employees, who are also artists, including a glass blower, a welder, a sewing artist, and musicians.  The work is continuous, as SmART Kinston moves from house to house throughout the neighborhood.  When I asked Mr. Hill if he thought opening up a brewery would lead him to something like SmART Kinston, he said, "Absolutely not." But, both he and Mooring are thrilled that the brewery has been a catalyst for reform and revitalization, eco and otherwise, in the Kinston area.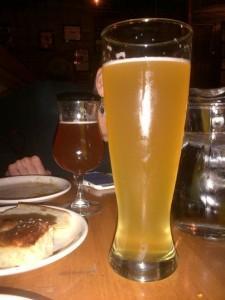 Camera shy Organic Beer Gal
hiding behind MEB's
Tripel (l) and Hefeweizen (r).
Beer
Currently, MEB is only available in Georgia, North Carolina, and Washington, D.C./Northern Virginia, but, as mentioned, it has developed a bit of a cult following among those on the East Coast.  MEB had a launch event in the Washington, DC area, and I, along with Organic Beer Gal, tried a number of their offerings including the 2012 GABF Bronze Medal winner Dark Clouds Dunkel (malty and bready, but with a nice dry finish), 2013 GABF Bronze Medal winner Bohemian Pilsner (top-notch grassy pils [I tried at GABF]).  Of the lot, I really enjoyed the Sisters of the Moon IPA (unfortunately, no picture), a crisp, well-balanced (i.e., maltier than usual IPA) beer that clocks in about 6.2%; it has great carbonation, and a snappy finish.  It was one of the more enjoyable IPAs I have had in some time.  Organic Beer Gal, a Belgian-style fan, really enjoyed the MEB Tripel (right), saying it was "Delicious.  Sweet, kind of like dessert, but also refreshing…like a good piece of fruit."  Also, in regards to engaging the Kinston community, the bottle labels are painted by MEB President Trent Mooring's high school art teacher!
Sisters of the Moon IPA
Beer Advocate – 3.7/5
Rate Beer – 3.34/5
Mac's Untappd – 4.5/5
You can follow me on Twitter and Untappd @RevoSpirits.