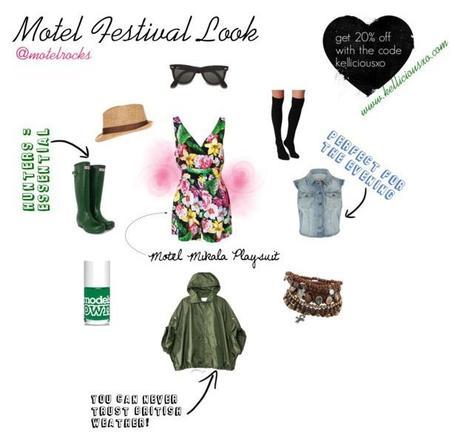 Since joining the Motel Rocks Street Team, I've been enjoying the various tasks and challenges that they set for street teamers, whether they are a blogger or not. A couple of weeks ago, the tasks were dedicated to the Olympics, but they have now switched their focus to the festival season. I have mentioned this a million times but I love festival fashion and festivals in general, so jumped at the chance of creating a Polyvore set involving an item(s) of Motel clothing, styled to be festival-ready.
I chose the Mikala Playsuit, as it's a fun and flirty piece which can be dressed up or down, so could be perfect for a night out once it has had its festival outing! I personally think Hunters are a festival must (if you can afford them! I've had to settle for Hunter Lowthers, which is basically their budget range *sob* one day the studded mid calf Hunters will be mine!) and the knee length black socks help to give the outfit a cute and flirty edge & keep your feet comfy and warm.
We all know how unpredicatable the British summer can be, so I've thrown in a straw trilby, some Ray-Bans, a denim waistcoat and a khaki poncho so you would be prepared for all occasions. of course, you wouldn't have to carry all 4 things at once as your tent will be home to all the extras :) I  could definitely see myself rocking out in a field in this outfit, now all I need is more money and tickets to a few more festivals this summer...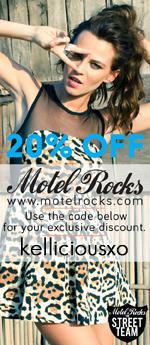 As you may have noticed in my sidebar, I now have a snazzy 20% code for Motel Rocks, so enter kelliciousxo at the checkout in order to obtain the offer - you can't say no, surely?