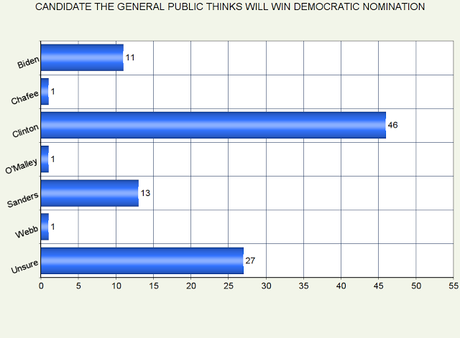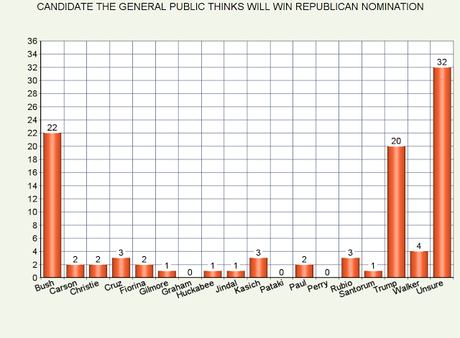 The charts above show who the general public (Independents, Democrats, and Republicans) thinks will be the nominee of each party. The numbers are from a newly released YouGov Poll -- done between August 14th and 18th of a random national sample of 2,000 adults, with a margin of error of about 2.8 points.
The public is still pretty sure that Hillary Clinton will be the Democratic nominee. She 's 46% -- to only 13% who think the nominee will be Bernie Sanders, and 11% who think it will be Joe Biden.
The public is not so sure who they think the GOP nominee will be -- although they seem to have narrowed it down to two candidates. About 22% say the nominee will be Jeb Bush, while 20% say it will be Donald Trump. That's within the survey's margin of error, so it could be considered a tie. No other candidate gets more than 4%.
The charts below are from the same survey, but they show the current support for each candidate by the members of their own party. No surprise for the Democrats, with Clinton holding a 21 point lead over Sanders (47% to 26%). Biden finishes third.
The numbers for Republicans are significantly different. Trump has a huge 14 point lead over Ben Carson (25% to 11%). No other candidate scores in double-digits, with the closest being Bush and Rubio at 9%.