Over the past two weeks i have been working on a mural in Moseley on the site of the old Meteor Ford Garage.  its been a total eyesore, a run down building surrounded by white hoardings, a site i drive past nearly every day on my way home.
I've painted murals in cities in different parts of the world, commissioned by city authorities, from New York to Melbourne Australia, and i've enjoyed giving something back to these communities.  Painting murals with a message is what i love to do,  encouraging people to think about various themes around creating a better society, addressing issues like racism and segregation, or sometimes spiritual and more contemplative themes, such as in this case in Moseley – Nature.  The idea around this mural was taking people through the cycle of the four seasons,  from Winter through to Autumn and the journey of a seed as it grows.  Something i feel we don't reflect upon enough – the marvels of life and nature that surrounds us in the concrete jungles we exist in.
During our busy lives on our way to work – what do we ever see in the form of public art that might help us stop in our tracks and ponder for a moment?
So when i was approached about the opportunity to paint in Moseley, i jumped at the rare chance to give something back to my community more closer to home.  I've painted other murals in my home city of Birmingham, but this one was rather different.  I created tree structures that were in-relief, that stood away from the wall itself.  With secure fixings, the trees almost came out at you, and at different times of the day, it was wonderful to see the shadows of the tree that cast back onto the wall.   So it was a kind of mix of paint mural art, combined with sculpted forms made from wood.
After nearly 3 weeks of work, half in the studio and half of it on-site in the scorching sun, as well as thunderstorms, me and my team had now completed the mural.  Here are the pictures of the completed mural.  However sadly within 24 hours it was vandalised with Anti-Tesco scrawls across the entire mural.  The site formerly belonged to Tesco who have now sold it on.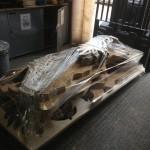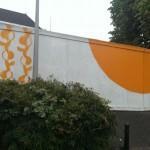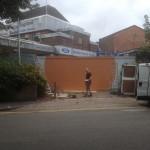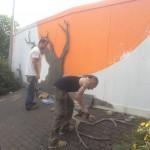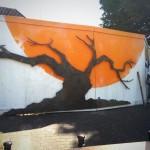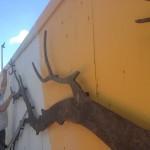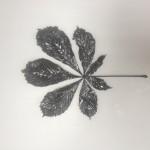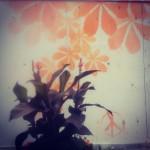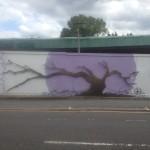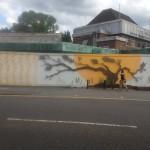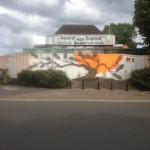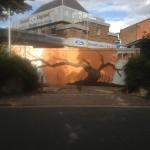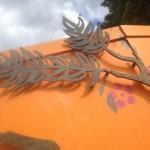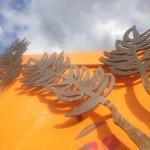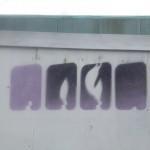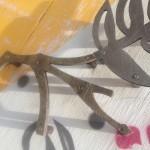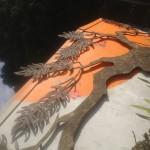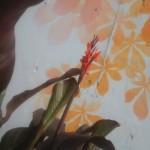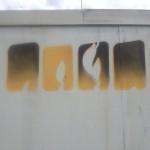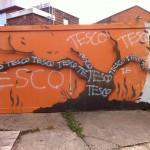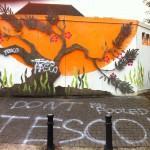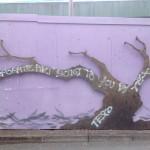 Sadly within 24 hours of the mural completion the mural was vandalised with anti-Tesco scrawls: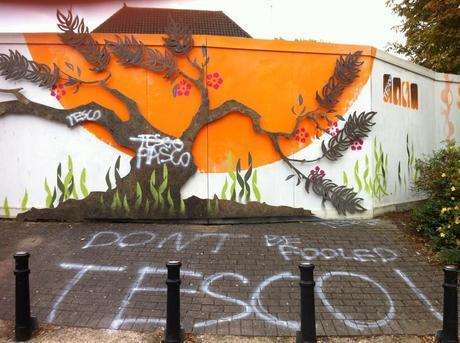 More Anti-Tesco vandalism