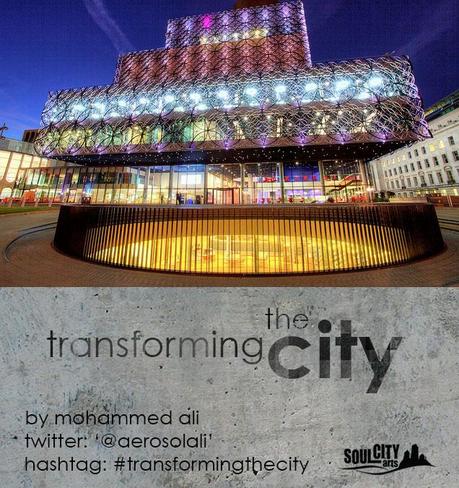 On Thursday 22nd May 2014, i was invited to speak at the new, shiny Library of Birmingham.  It was wonderful to be in one of the most exciting new buildings in the city that i was born and raised.  A buiding really that is like a microcosm of Birmingham itself, with all walks of life passing through its doors.
I was asked to share my work and deliver a talk, so i decided to share some specific thoughts on the theme of 'Transforming the City'.   I deliver a lot of talks at schools, colleges, universities and public venues, where I talk through my work and share stories along the way.  This time i wanted to begin a conversation and speak specifically about some important questions i been exploring.  I wanted to explore how we as human beings see ourselves within the cities we live in, how we feel about the power we have to affect change in our city.  How the visual landscape of our cities is shaped around us, without any input from the people that exist within that space.  Is it really public-space and does it belong to us?  Why do we resign ourselves from having an impact in how our cities are physically shaped around?  Architects, town planners and city authorites, as they build the metropolis around us and shape the physical space that we use, do we ever have any input on that? If not, why not? Do we see collaborative thinking when it comes to some of our social problems? Do we see academics, city councils and policy makers sitting with artists to explore issues we face together?
Many may already know that I paint murals within commmunities, murals that encourage people to reflect on important issues in society, but also murals that blend with the environment and resonate with the very people that surround these murals. For the past ten years i've been traveling to great cities around the globe, painting concrete jungles and connecting with different communities, learning along the way. Making human connections through art is paramount for me, if your art is not emotionally connecting with the audience, then it should be questioned.  The art must serve a purpose.   But i also went beyond just painting of the murals and launched Soul City Arts, an arts organisation that was dedicated to using art to engaging people from different communities. We then launched an arts center called 'The Hubb' four years ago.  That was all part of our initiative to bring art; in a wider sense, to the lives of ordinairy people.   As a graffiti artist, I have a strong belief in art being accessible for all, not just restricted to certain places and venues.  Art must be embedded in our daily lives and our environment, and it can have a huge impact on our social condition.  We underestimate the impact of color on us as human beings.  We are surrounded by ugly concrete jungles devoid of any color.   I write this post only to begin the conversations around 'Transforming the city' through remarkable ways.  I hope this can be the beginning of us exploring these issues together.
I'm not a great writer, i'm a visual artist, but i do feel it's high time that we begin to explore new and exciting new means of connecting us as human beings, exploring how neutral spaces can bring people together physically.  How can we engage with current spaces, but really engage with different audiences. Yes, we know there are various diversity tickbox excercises in engaging with diverse 'BME" communities, but aside from all of that, on a very real level – lets start important dialog and explore creative approaches to connecting us as human beings.
The Hubb, is an arts space I ran in the heart of Sparkbrook, Birmingham, where i was based and delivered a lot of programs from.  It has now since been closed down due to council redevelopment.   We have a new space on the horizon and recognize the need for a physical space to explore these conversations in.  Keep a look out for that and keep connected with us as we may need your support in that initiative.
We have a hashtag #Transformingthecity'  – those who were present during the Library talk I gave as well as the general public, please do contribute to the continued conversations about how we can use creative expression to transform our city.
Here are some links to continue the momentum, so do Like our facbeook page to continue to hear about Soul Cty Arts initiatives, including our new space.
www.facebook.com/soulcityarts
www.soulcityarts.com
www.aerosolarabic.com (my website as an artist)
Peace and Blessings
Mohammed Ali