When Chef Thomas Heinrich returned from Taiwan, he didn't only bring back his luggage. He also registered a hefty carry-on of the inspirations that he obtained during his 8-day Taste Taiwan tour, for which he and two other North American chefs were selected to experience. Some culinary adventures included dumpling making at Din Tai Fung and crafting fish balls at Cijing Seafood Restaurant. After landing in Canada, it didn't take long for Chef Thomas to design a 4 Course Taiwanese Tasting Menu for Mosaic Bar & Grille, which featured Taiwanese flavours executed with French techniques.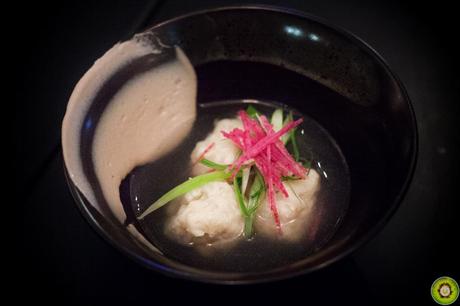 The first dish was inspired by the Chijing Fish Market & Restaurant: Fish Ball with Scallion & Pork Dust. The fish balls were made of ling cod and scallop, which had a very soft texture like a meatball. I wasn't very accustomed to the mouthfeel since fish balls are typically bouncy and slightly chewy. Nevertheless, its flavours melded well with the clean broth.
I assumed that the swoosh on the side of the bowl was the pork dust. It was quite tasty. Swoooooooosh…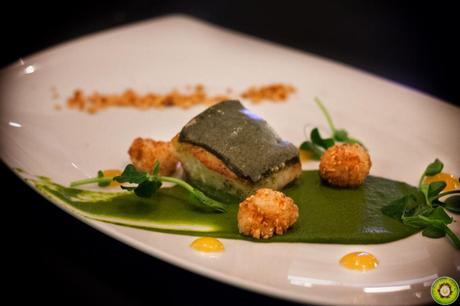 The second dish was inspired by the trip to Beipu and the Chihshang: Hakka Tea Crusted Line Caught Ling Cod. I don't think I've ever disliked the fish at Mosaic, simply because they have cooked it perfectly every time thus far.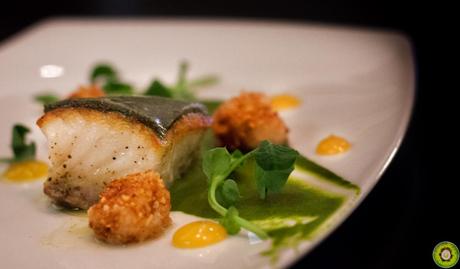 The hakka tea blanketed the fish with an earthy nuttiness, which was bold compared to the delicate fish. On the plate, there were also peanut mochi and lemon vinegar fluid gel drops. I found it best to mix those two components with the hakka tea swoosh on the plate, producing a blend of chewy, nutty, sweet and tart. Although, I wished that there were some more Asian vegetables to pair with the fish.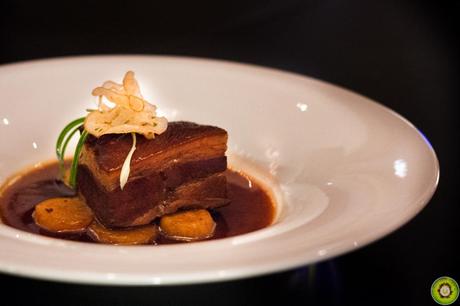 Inspired by the Silk Palace Restaurant, the 5 Spiced Braised Pork Belly was my favorite dish of the night. The sauce tasted like Lo Sui (literal translation: old water), a Chinese marinade that is characteristically savoury with a hint of sweetness.
Because it was pork belly, there was a lot of fat on it. However, I didn't mind this time because the fat was so delicious… The fat had a very subtle chew before dissolving and re-moisturizing the meat, which was especially appreciated with some of the dryer parts.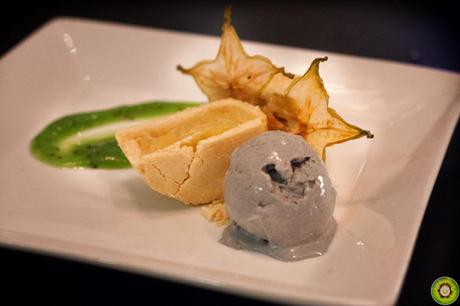 When I saw Pineapple Cake on the menu, I misunderstood it as the common pineapple bun in Chinese bakeries. Nevertheless, it was a delightful surprise as the pastry was crumbly like a shortbread, not too sweet and filled with indulgent pineapple paste and chunks. The cake was served with a scoop of black sesame ice cream – one of my favourites! I really wanted a second scoop, though.
The 4 Course Taiwanese Tasting Menu is available at Mosaic Bar & Grille in the Hyatt Hotel until February 13th for $45 (+$20 for wine pairings).
---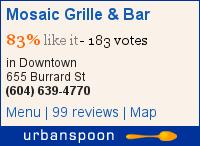 Google+

Curtis Ng