Last time it was Italy. This time around, Chef Thomas and his team are bringing fantastic French dishes to Mosaic in the Hyatt Regency Hotel! The French cuisine has always been intriguing to me, especially since many of the chefs on the Food Network are "trained in classical French cooking." However, the fancy dancy menu names are quite daunting… which makes tasting menus such delights because the entire dinner is laid out for me!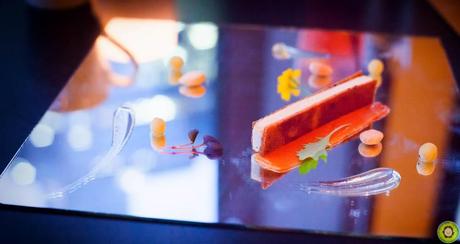 The first dish was the Foie Gras Parfait - a first for me. It's made with Rougié Quebec foie gras, apple, calvados and macron almonds.
The foie was creamy, yet light. EatingWithKirby pointed out that it's much milder than most foie. As with many of Mosaic's dishes, I found it best to compile all the dish components into one bountiful byte. The waffle biscuit provided a sturdy crunch, contrasting the smoothness of the foie and almond puree. Don't forget the apple and calvados jelly as they lent a sharpness to cut through those heavy elements.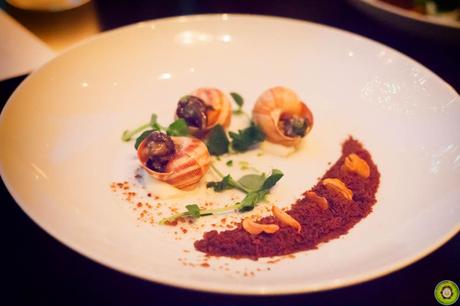 I can honestly say that I've never had proper Escargot. My last experience was at an HK café, which was far from the real deal. Mosaic delivered burgundy snails with shallot, roasted garlic and parsley.
Each snail was tender and bursting with buttery goodness. Also, I loved the playfulness of this plate. The stratum of pumpernickel imitated a snail's natural habitat: dirt. It had a hint of sweetness plus a smack down of garlic.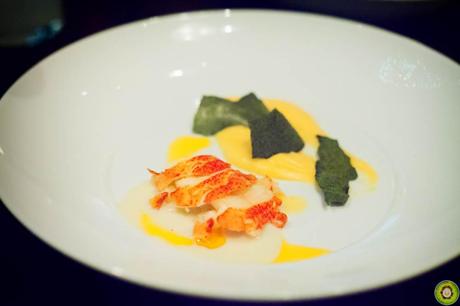 After eating Mosaic's lobster, don't expect to enjoy this crustacean anywhere else. The Atlantic Lobster Tail was poached sous vide in butter for 20 minutes at 140 degrees. The result? Tender meat that exploded with rich lobster flavor. It starkly contrasted typical boiled lobsters, which are slightly crunchy, bouncy and bland. To make the lobster more dynamic, the underlying Thermidor sauce added some zestiness.
The kale nori was quite interesting. It was similar to a denser version of regular seaweed. It wasn't exactly crispy, and it got stuck in my molars.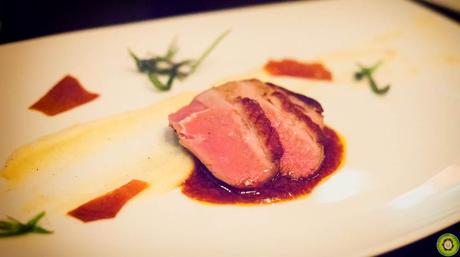 The Duck à l'Orange was made with roast Thiessen Farms duck breast, celery root and tarragon. It may look small, but taking one small byte invoked the satisfying feeling of tearing off huge strips of meat from a whole BBQ duck with your teeth. Also, forking the duck with the bits of orange fruit leather made my tastebuds very happy :)
On the other hand, the celery root wasn't my favourite… just because I don't like the taste of celery. However, when I combined it with the duck and everything else, the celery flavor mellowed out drastically.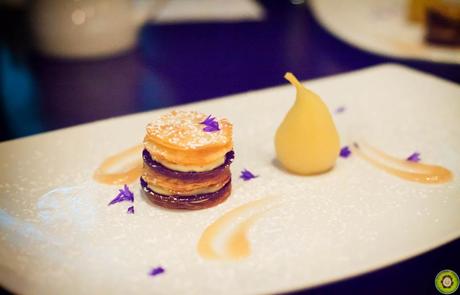 Finally, the dessert: Mille-Feuille – composed of puff pastry, lemon cream and vanilla salted chocolate – with a poached pear. Cream, vanilla and chocolate… how could anything go wrong with that killer combination?! I'm salivating just thinking about it…
And hooray for fruit! The dietetics student in me was very happy with the inclusion of the pear :)
Mosaic's 5 Course French Tasting Menu is on the table until October 18th! As with previous tasting menus, there are wine pairings available.
* Disclaimer: my dinner was complementary, but all opinions expressed are my own
---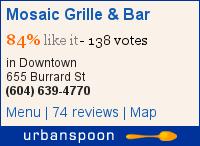 Google+

Curtis Ng