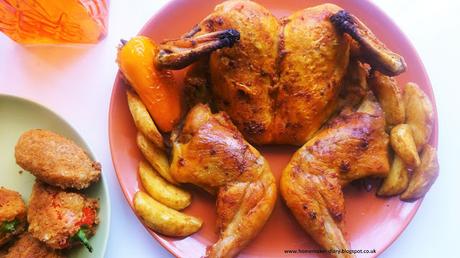 Moroccan Butterflied chicken is a highly delicious recipe without the bells and whistles. This spicy, flavorful chicken is tender on the inside but crispy on the outside. It's also an ideal barbecue recipe in the Summer.
It's very easy to put together just six ingredients come together to create a super tasty and hassle free dish. You can adjust the spice levels according to your taste, however it's suggested to keep the quantities of lemon and olive oil as stated in the recipe.
The preparation is a breeze, the only problem I had was cutting the back bone. It was the first time I had done it and for a person who is always shaky for no apparent reason, cutting an animal part... I mean a dead animal was the worst nightmare of my life. Cooking up an animal is different than cutting or chopping, isn't it? If your hands shake, like mine while cutting meat you can ask your butcher to do it for you.
Any ways it is all over now, the chicken has been butterflied and cooked successfully, by the way it turned out uber delicious and that is why I am writing this blog post. I  still would like to give you a short tutorial on butterflying so that if you have to do it on your own like me, you can do it easily.
Lay the chicken upside down on a chopping board use a pair of kitchen scissors to cut both the sides of the breast bone. Now turn the bird over so that the breast size face upwards, press firmly to flatten, that's it you have successfully butterflied a chicken.
Cooking Time: 45-50 mins ☻     Serves: 4 ☻     Skill: Medium ☻     Cuisine: Moroccan ☻ 
tr>
IngredientsQuantiy
whole chicken1         
garlic cloves2
paprika or red chili powder1 tsp
cayene pepper1 tsp
cumin powder2 tsp
saffron few strands
olive oil4 tbsp
lemon juice1/2 cup
black pepper powder1/2 tsp
saltto taste
Method:
Butterfly chicken as explained above, ideally the backbone should be removed completely. I didn't because I could not find any courage to proceed further, so I left one part intact. Perhaps next time I will ask the butcher to do it for me.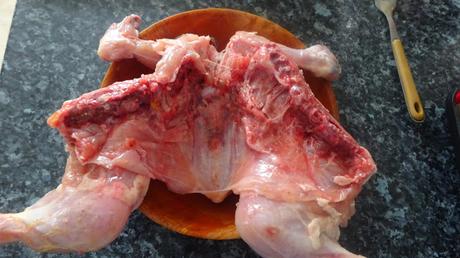 Make the spice blend, first mince the garlic add cumin powder paprika, cayenne, black pepper and saffron strands also add salt. Mix properly before adding the olive oil and lemon juice.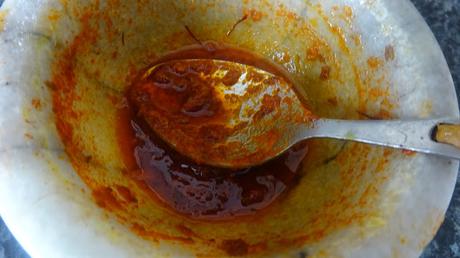 Rub the marinade all over the chicken and place in the fridge for 6-7 hours so that the flavours are completely permeated into the bird.  After the marination is over take out of the fridge and bake in a preheated oven at 200 degrees C. Bake for 45-55 minutes until the chicken is nice and crispy on the outside and soft and tender on the inside.
This chicken can be served with couscous or rice and salad.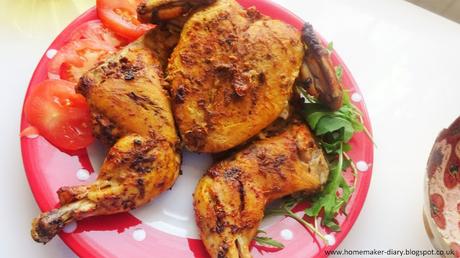 Related Recipes
Chicken Sheesh Taouk :  Boneless chicken is marinated with simple ingredients to transform the usually boring chicken breast into something special.
Lahori Chargha: Crispy spicy and succulent deep fried chicken is bound to replace your weekend takeaways.