I woke up in a rough mood today... I have been having chronic nightmares recently.  Last night I got about five hours of sleep - and I awoke feeling so upset about the horrible images from my "sleep."
I decided that oatmeal was in order today, along with some Roibos tea.  I needed warmth and comfort...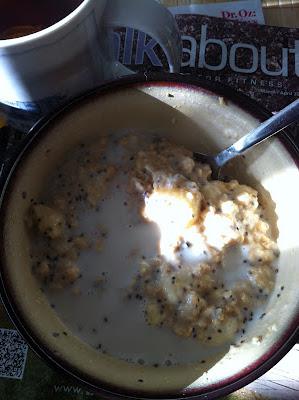 In the bowl: oats, chia seeds, scoop of peanut butter, almond milk, banana, and a sprinkle of coco nibs.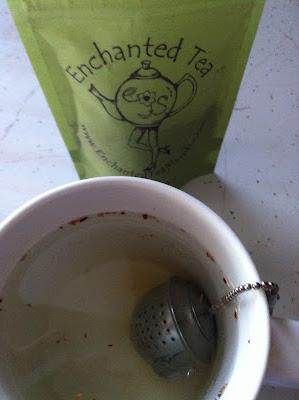 I have found a tea that reminds me of a fall latte - but without the caffeine or acid, because it's Rooibos!  This is a local tea company we stumbled upon this past weekend at the Farmer's Market - a mother, daughter tea business with local herbs and flowers to flavor - yes please!!  At their store, they sell a number of Vegan and Gluten free goodies as well - I'll be stopping by.  "Bewitched" is a delicious(I rarely say that about tea) cup of antioxidants!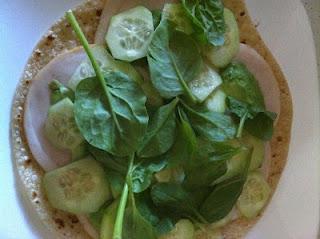 Dinner last night was quick, and simple - I had a very full day and was in no mood to cook at 7pm.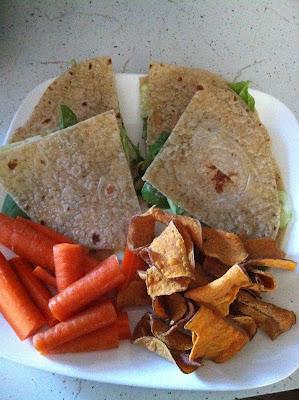 I paired my rice tortilla with veggies, mustard, and chicken with carrot sticks and a few salt and pepper sweet potato chips.  I actually left the rest of the bag alone!  Small victories = life changes...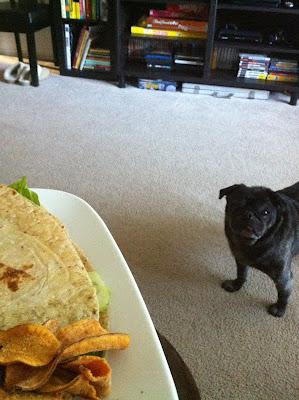 Sometimes, especially when I am eating, I feel as though I am being watched... when you own a pug, an unattended plate of food is very big no no.  I have a lot to do to get ready for class today, it's midterms... here is to getting over the middle of the week as well!